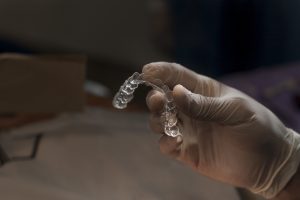 When you have crooked teeth, you may assume that to obtain a straighter smile you need metal braces. Fortunately, this is not the case! In fact, your Astoria, NY, dentist has helped people obtain straighter smiles using a series of clear aligners. In Today's blog, we're going to talk about how we use this option to offer a more attractive and healthier smile.
Straightening Your Smile
Why should you consider orthodontic treatment? Dental misalignment obviously has a negative impact on the appearance of your smile, and correcting the issue could improve your self-confidence. But addressing uneven teeth also helps boost your oral health too! You see, uneven teeth often provide small corners for food particles to remain trapped, left for bacteria to break down. Over time, this increases the risk of tooth decay and gum disease, as well as bad breath and stained teeth. In addition, your malocclusion could place pressure on the jaw joints and bite balance, pressure that could mean the onset of painful disorders like TMD or even bruxism (chronic teeth grinding).
Treatment with Aligners Instead of Braces
How do we use aligners instead of braces? Well, we begin by assessing the cause and severity of your misalignment. If we feel ClearCorrect is the right choice for you, then we will take detailed images with digital scanning technology. Using this information, we design and craft the aligners in a lab setting. When ready, you will wear a set for about 20 to 23 hours per day. After two weeks, you begin wearing the next set in the series. Over time, this process corrects misalignment, all while remaining practically invisible.
Other ClearCorrect Benefits
In addition to being clear, the aligners will also fit comfortably since each set is custom-fitted for your smile. You avoid gum and cheek irritation. These clear braces will also be removable, so you don't have to alter your diet and avoid certain foods, just take them out before you eat. Being removable also means that brushing and flossing is much easier too, which lowers the risk of everything from tooth decay and gingivitis to stains during treatment. The overall treatment time is also only about a year for most patients, and you require fewer office visits.
If you would like to learn more, then schedule a consultation with our team. We will examine your smile and discuss the best option for correcting your misalignment. If you have any questions, then please don't hesitate to reach out to our team today.
Do You Have Questions About Cosmetic Orthodontics?
We're so excited to offer a clear and comfortable option to address uneven teeth. To learn more about the process of correcting your uneven teeth, then schedule a consultation by calling Jeffrey Leibowitz, DDS, in Astoria, NY, today at 718-728-8320.