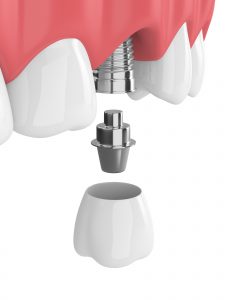 Dental implants last longer than removable prosthetics, and also offer greater security and a more lifelike appearance too. To ensure they look natural and blend with your smile, they will need a custom restoration. In today's blog, your Astoria, NY, dentist will discuss how we create implant restorations.
Placing The New Roots
First, let's talk about the implant portion of your new tooth. A small device, similar in appearance to a screw, is inserted into the jawbone by a skilled oral surgeon. The implant post is made from biocompatible titanium, which bonds with the jawbone like a natural root. Unlike traditional bridges and removable dentures, this means the new teeth have the ability to last for decades to come, possibly even a lifetime with proper care and attention! Once the new roots have been placed, that's when our team will attach the custom-made restoration.
Creating and Attaching a Crown
For an individual one, we will attach a crown with an abutment. The crown is custom-made from materials such as ceramic, which means we can shade them to blend with the smile, and also design them to ensure a proper fit and a balanced bite too! After all, we want them to look natural, but we also want to ensure you have a durable and dependable chewing surface, one that can absorb the daily bite forces expected of each tooth in your smile. If you have multiple missing teeth, then our team is experienced in designing and crafting custom bridges and dentures to attach to multiple posts, securing a complete smile that is more durable than removable options, and one that will never slip when you eat or speak.
Are Dental Implants Right for You?
To find out if they're right for you, our team will first need to take a close look at your smile. We want to make sure your smile is free of underlying oral health issues that could make implant placement complicated, such as a balanced gum disease. We will first treat these issues to prepare your smile. If you have lost jawbone tissue as a result of your missing teeth, we may suggest jawbone grafting and sinus lifts to rebuild these portions of your smile and prepare them for placement. If you have any questions about implant dentistry and our lifelike dental restorations, then please contact our team today to learn more. It's never too late to obtain a complete smile again!
Do You Have Questions About Implant Dentistry?
Our team is ready to help you enjoy new teeth that look and function like the real thing. To learn more about how we replace missing teeth with dental implants, then schedule a consultation by calling Jeffrey Leibowitz, DDS, in Astoria, NY, today at 718-728-8320.