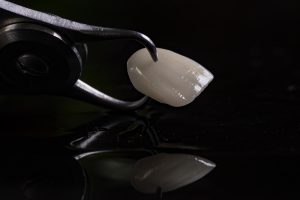 With our porcelain veneers, we can offer a total smile makeover by instantly correcting the shape and color of one or more of your teeth. In today's blog, your Astoria, NY, dentist will explain how we create these restorations and place them, and what cosmetic improvements they can offer your smile.
The Cosmetic Capabilities of Veneers
Since these thin restorations cover the front and sides of the teeth, we can use them to address an array of cosmetic issues. For example, they can mask permanent teeth stains that may not respond to most teeth whitening treatments. They also correct the appearance of minor misalignment, offering an alternative to braces or aligners for some. Placement could repair minor damage, such as cracks or chips, and add length for teeth worn down by teeth grinding. We've used to help fill gaps between teeth too, including those black triangle spaces. We also address misshapen teeth too!
Creating Your Porcelain Restorations
The key to their success is the custom-made nature of each one. They fit comfortably, preserve your bite balance, and of course, will be color-matched to blend with the rest of your smile. We may even whiten your teeth to ensure they match your brightest possible smile! To craft them, we start by removing enamel from the outside of your teeth. Next, we take detailed impressions and images with digital technology. At a dental lab, we use the images and measurements we took to design and craft each one.
Placement and Maintenance
You will return for a second visit so we can check the fit and make any last-minute adjustments. Finally, we place your completed veneers with a powerful bonding agent. Once in place, routine care not only helps them stay bright, but also protects the teeth we attach them to from issues like tooth decay, infection, and gum disease. With the right steps, they could last for many years to come, possibly decades to come! You should brush and floss daily, cut back on sugary foods and drinks. Avoid tobacco products, and of course, see us every six months for a checkup and cleaning visit. If you have any questions about how we design and create one or more porcelain veneers, then contact our team today. We can offer a cosmetic consultation to see what is needed to offer you a smile makeover!
Ready for a Smile Makeover in Two Visits?
Our team wants to help improve the color and shape of one or more of your natural teeth with our custom-made and long-lasting dental restorations. To learn more about our approach to cosmetic dentistry, including teeth whitening, bonding and contouring, and porcelain veneers, then schedule a consultation by calling Jeffrey Leibowitz, DDS, in Astoria, NY, today at 718-728-8320.