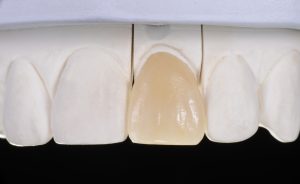 When people come to us with multiple esthetic complaints, including issues with the shape and color of the teeth, then we may suggest porcelain veneers. In today's blog, your Astoria, NY, dentist explains how we craft custom veneers to improve the smile in as little as two visits, and how to know if they might be right for you.
The Difference Veneers Offer
While other options could repair teeth, a veneer is designed to focus on the esthetics and improve smile beauty. The restoration offers results that could last decades, much longer than whitening or bonding alone. Since they cover the front and sides of each tooth, the restoration could instantly address multiple issues at once with the shape and color of your tooth. We could mask permanent teeth stains, repair minor damage, add length to worn down teeth, and even close embarrassing gaps or black triangle spaces between teeth. We've used them to also correct misshapen teeth and even mask the appearance of minor misalignment, offering a completely new smile in just two visits.
Creating a Porcelain Restoration for Your Smile
To preserve your bite's balance and ensure a lifelike appearance, each one will be custom-made for your smile. We begin by administering a numbing agent and then removing a thin layer of enamel from the outside of each tooth receiving one. Next, we take detailed impressions and measurements of the teeth. Using this information, we begin the process of designing and crafting the restorations in a dental lab setting. When they're complete, you will return to the office for placement.
Placement and Keeping Your Smile Bright
Once you arrive, we will check the fit to ensure your veneers don't need final adjustments. We then attach them with a powerful bonding agent, one that ensures they can last for many years to come. Taking routine care of your smile at home, and seeing us for checkups and cleanings, will help keep them bright and protect the teeth we've attached them to from issues like infection or gum disease. Be sure you brush twice daily, and floss before bed each evening. Try to avoid beverages with dark pigments, or foods high in sugar and starch. Again, let us examine your smile twice a year and remove all plaque buildup too. If you have any questions about our cosmetic dental restorations, or about the steps needed to keep smiles whole and healthy, then contact our team today to learn more.
Do You Have Questions About Cosmetic Restorations?
Our team wants to offer a smile makeover option that improves teeth in two visits. To learn more about how we transform the beauty of a smile, then schedule a consultation by calling Jeffrey Leibowitz, DDS, in Astoria, NY, today at 718-728-8320.