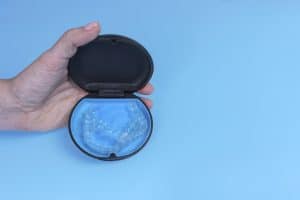 What if we had braces that were not only clear and practically invisible, but could also be removed before you eat? In today's blog, your Astoria, NY, dentist is explaining how we correct minor and more advanced cases of misalignment with a series of clear and cozy ClearCorrect® aligners, and how this impacts overall oral health.
Creating Custom Aligners
The aligners will fit over your teeth, and each set helps move them into optimal positions to correct misalignment. To ensure treatment with accuracy and precision, as well as a comfortable fit, each one will need to be created specifically for your smile. To start, our team will take detailed digital images of your smile, as well as measurements and impressions. At a dental lab, this information will be employed to design and fabricate a series of clear and BPA-free plastic orthodontics. Once complete, you can begin the treatment process.
The Benefits of ClearCorrect®
The most obvious benefit is the nearly invisible appearance, which makes this a preferable treatment option for teens and adults alike. However, another major benefit is the removable nature of these aligners. For example, you can take them out before each meal. No more worries about food becoming stuck in braces, no more need to avoid sticky or hard foods too. Being removable also means an easier time brushing and flossing your teeth. Better oral care means a lowered risk of tooth stains, bad breath, and even a decreased risk of cavities and gum disease too. Other benefits include fewer office visits and a shorter treatment time, with optimal results often only a year away.
A Healthier Smile
Treatment simply means wearing an aligner set for two weeks, for about 20 to 22 hours per day. A new set is then worn after about two weeks. The benefits of an even smile include a better bite balance, which lowers the chances of TMJ disorder and bruxism (chronic teeth grinding). You also have an easier time brushing and flossing, which again means you're less likely to develop cavities or gum disease. Finally, you will feel more confident smiling, and this could be a major boost for your overall quality of life. If you have any questions about treating misalignment with our clear and comfortable braces, or if you like to see if you have any dental insurance benefits you can use before the year ends, then contact our team today.
Do You Have Questions About Our Cosmetic Braces?
We want to help restore both the health and beauty of your smile by correcting misalignment. To learn more about correcting uneven teeth with nearly invisible braces, then schedule a consultation by calling Jeffrey Leibowitz, DDS, in Astoria, NY, today at 718-728-8320.