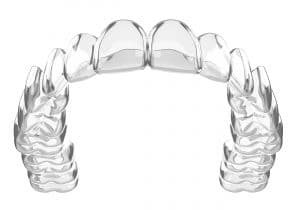 If you have an uneven smile, this could eventually lead to poor oral health, not to mention the impact on your smile's appearance. However, that doesn't mean you need metal braces! In fact, your Astoria, NY, dentist often corrects misalignment using a series of clear and comfortable aligners, which offer a practically invisible route to a straighter smile.
The Benefit of an Even Smile
We suggest undergoing orthodontic treatment not only to improve the appearance of your smile, but to improve overall oral health as well. Often, uneven teeth make thorough brushing and flossing a difficulty, and as a result, allows an increased risk of issues like tooth decay and gum disease. For others, misalignment places pressure on the jaw joints and upsets bite balance, increasing the likelihood of problems like TMJ disorder or chronic teeth grinding (bruxism). With treatment, you reduce the risk of these serious oral health complications.
Creating Custom Aligners
First, we will carefully examine your teeth, jaw, and oral structures with advanced technology. From there, we will decide what course of treatment will benefit you. If we decide to go with ClearCorrect, we will take detailed digital impressions of your smile, as well as images and measurements, which will be used to fabricate the series of aligners from a BPA-free acrylic material. Being custom-made ensures a proper fit and helps you avoid the gum and cheek irritation often encountered with braces. When the aligners are ready, your treatment begins!
What to Expect From Treatment
Each set is made from clear acrylic, so they will be barely visible when worn. You will wear a set for between 20 and 22 hours a day, upgrading to the next set after about two weeks. We will examine your smile during periodic visits to ensure your smile is being repositioned as expected. The total course of treatment varies, depending on the cause and extent of your misalignment, but usually falls between a year and 18 months. Unlike metal braces, your aligners can be removed before meals and prior to brushing and flossing your teeth. You don't have to avoid certain foods, worry about items being stuck in your braces, and cleaning your teeth is much easier. If you have any questions about how we correct misalignment with clear and comfortable aligners, then contact our team today!
Do You Have Questions About Correcting Misalignment?
Just because you need treatment for crooked, crowded, or overlapping teeth, doesn't mean metal braces are your only option. We've helped many patients obtain stunning new smiles with the ClearCorrect invisible braces system. To learn more about our approach to correcting poor alignment, then schedule a consultation by calling Jeffrey Leibowitz, DDS, in Astoria, NY, today at 718-728-8320.