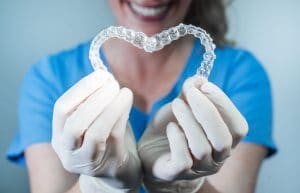 Metal braces help correct misalignment and improve your overall oral health. However, few adults are especially eager to address their misalignment with metal braces, which could have a negative impact on their professional appearance. Fortunately, your Astoria, NY, dentist can help with a barely visible alternative!
The Benefits of Invisible Braces
As stated in the name, our invisible orthodontics are made from a clear material, making them barely visible when you wear them. The aligners will also be made from plastic, which fits comfortably and helps you avoid any gum and cheek irritation. Even adjusting to the new aligners is often less uncomfortable than wearing metal orthodontics. The treatment process is shorter than is required for metal orthodontics, and you also need fewer office visits. Finally, you can actually remove them before you eat, so you don't need to avoid your favorite foods or snacks. You can also take them off prior to brushing and flossing each day, so caring for your smile as much easier than if you had metal brackets and wires on your teeth.
Crafting Your Custom Aligners
To ensure a comfortable fit and treatment with accuracy and precision, each set is custom-made specifically for your smile. There is no one-size-fits-all approach. We will take detailed impressions, measurements, and images of your smile, using them to design and fabricate your aligners from a BPA-free acrylic material. You will wear a set for about 20 to 22 hours every day, and then upgrade to the next in the series every two weeks. For some, optimal smile appearance is possible in as little as a year! Teens may benefit from treatment for up to 18 months, as their smiles are still growing and developing.
Long-Term Health Benefits
Correcting your smile does more than just improve smile beauty. In fact, it lowers the risk of tooth decay and gum disease, as caring for and cleaning your teeth is much easier now that teeth don't crowd or overlap. You also ease strain on your jaw joints and maintain optimal bite balance, which protects you from TMJ disorder and bruxism (teeth grinding). Remember, addressing misalignment is a boost to your overall oral health, and helps you avoid common oral health issues that could threaten tooth loss and other complications later in life. If you have any questions about invisible braces, or if you would like to schedule a consultation, then contact our team today.
Do You Have Questions About Invisible Braces?
If you have crooked, crowded, or overlapping teeth, then we have a clear and comfortable alternative to metal orthodontics to correct them. Each set will be made for your smile alone, ensuring a comfortable fit and optimal treatment. For more information on our cosmetic treatment options, then schedule a consultation, call Jeffrey Leibowitz, DDS, in Astoria, NY, today at 718-728-8320.