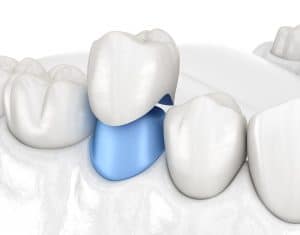 When you have damaged a tooth, or developed an issue like tooth decay or infection, you need treatment to return the tooth to optimal health, function, and yes, even beauty. To accomplish this, your Astoria, NY, dentist may suggest a crown created from lifelike materials. In today's blog, we're going to look at how we design and craft a restoration.
When We Prescribe a Restoration
The crown itself covers everything on a tooth above the gum line. For that reason, they help address a wide array of both cosmetic and restorative issues. For example, we could provide repair for chipped, broken, or fractured teeth, and lengthen teeth worn down by teeth grinding. We also help reshape malformed teeth, and address issues with permanent discoloration. For those with one or more missing teeth, we could use them to secure a dental bridge or provide restoration for an individual dental implant.
Our Lifelike Materials
We use three different materials to create them. For the front facing teeth, we use all-porcelain. The porcelain material is translucent like tooth enamel, and we tint it to blend with the rest of the smile. The most lifelike option, we reserve it for the most visible teeth. The side and rear teeth must endure great bite forces and pressure. For that reason, we may use porcelain-fused-to-metal or zirconia, as both of these options are very strong and again, we can shade them to blend with the smile and provide a more lifelike restoration.
To create a restoration, we start by removing structure from the tooth in question. Next, we take detailed impressions of the tooth and images, using them to design the finished product. We craft it in a dental lab and when complete, we place it on the tooth with a powerful bonding agent. With proper care and attention, they could last for decades to come!
Preserving Your New Crown
The tooth we attach the restoration to is still vulnerable to issues like infection or gum disease, so keeping it bright and long-lasting requires routine care at home and in our office. The same care also helps protect natural teeth too. You should brush twice a day for about two minutes, and use a fluoride toothpaste each time. Make sure you floss before bed, and see us every six months for a checkup and cleaning. If you have any questions about treating common restorative issues with a lifelike crown, then contact our team today. We want to ensure our patients and their families enjoy optimal oral health!
Do You Have Questions About Improving Oral Health?
We want to offer repairs that look natural and provide years of dependable improvement. To learn more about restorative dental care, then schedule a consultation by calling Jeffrey Leibowitz, DDS, in Astoria, NY, today at 718-728-8320.