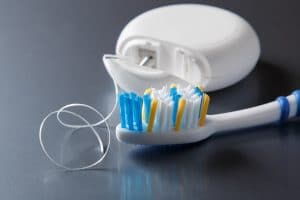 While a checkup and cleaning is essential for a healthy smile, you also need to care for your teeth and gums at home in between these visits. Unfortunately, many people assume they're brushing and flossing as recommended, but are actually doing so improperly! In today's blog, your Astoria, NY, dentist, Dr. Leibowitz, will explain how to properly care for your smile at home.
Brushing and Flossing Your Teeth
First, let's talk about the most obvious means of keeping your smile healthy: brushing and flossing your teeth. You should do both each day to remove trapped particles left behind by the foods and drinks you consume. Otherwise, bacteria will consume them and coat the teeth in plaque as a result, increasing the risk of eventual cavities and gum disease.
You should brush when you wake up and once more before going to bed, with each session lasting a minimum of two minutes. Make sure the toothpaste you use contains fluoride, which ensures better cavity protection. We also suggest picking up brushes with soft bristles, as this prevents unintended damage to the enamel should you brush too hard.
Flossing is also essential! Using tape or a pick, move the floss up and down the length of each side of every tooth. Try to dip below the gum line when you do, which helps extract trapped particles. We suggest doing so before bed each night, or if you notice bits of food caught between your teeth after a meal.
Eating Healthier Snack Options
Often, the food and beverage choices we make impact our oral health. Leaving behind particles of sugar and starch feed harmful bacteria, allowing cavities to form or gum inflammation to occur. We suggest cutting back on sugary items, and drinking more water. For snacks, try to enjoy more fresh fruits and veggies. Rough veggies and fruits, like fresh broccoli, carrots, or apples, often help scrub plaque away. Water contains no harmful sugars or acids, and helps cleanse your mouth too!
Watching for Signs of Trouble
If in between your six-month visits you notice pain in your smile, always let us know. Tooth sensitivity and toothaches could indicate a cavity or the early stages of infection, while sore, red gums that bleed easily could mean gingivitis or the early stages of gum disease. If you have any questions about protecting your smile from home, then contact our team today!
Do You Have Questions About Dental Hygiene?
We want to help you continue to keep your teeth and gums healthy and strong. Our team knows how to offer preventive care to safeguard your smile. To learn more about maintaining proper oral hygiene, then schedule a consultation by calling Jeffrey Leibowitz, DDS, in Astoria, NY, today at 718-728-8320.