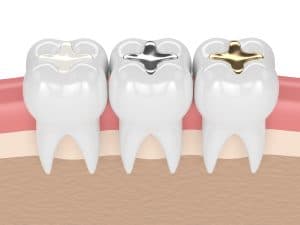 If you have a cavity, you need a filling. Most people know this, but few know what the process of identifying a cavity, placing a filling, and protecting your smile from decay involves. In today's blog, your Astoria, NY, dentist will talk about how we place a lifelike and long-lasting restoration to help protect your smile from infection or tooth loss!
When Do I Need One?
A cavity occurs when the outermost layer of tooth structure, known as the enamel, becomes damaged or weakened as a result of poor oral hygiene. The inner layers of dentin, which are more sensitive, become exposed to harmful bacteria and allow a cavity to form. Eventually, people begin to notice sensitivity to hot or cold foods and drinks, as well as toothaches that don't subside after 48 hours. If you begin to experience pain and sensitivity, then please contact our team today for a diagnosis. If you attend regular checkup and cleaning visits, then we can often identify cavities in the earliest stages, treating them before you experience discomfort. Remember, if you want to lower your risk of developing cavities, be sure to brush and floss daily, see us every few months for a cleaning, and cut back on sugary foods and drinks.
The Lifelike Option
The material we use to treat the tooth is metal-free and created using a blend of acrylic and glass material. Not only is composite resin strong and durable, but the material could also be shaded to match the color of surrounding teeth. We also use this same material in our tooth bonding procedures to repair minor damage and offer esthetic improvements. This material helps ensure your new repairs look natural, so you can continue to smile with confidence.
Placement
Treatment begins with the dentist removing the decay from the tooth. We then carefully clean the tooth and may etch the surface as well. We place the composite resin in several layers, sculpting the tooth as we cure it under a light. The final step is to polish the tooth for a more lifelike appearance. In just one visit we can treat your tooth decay and ensure your tooth continues to look natural. The procedure also prevents a cavity from becoming an infection or abscess that could threaten the stability of your smile. If you have any questions about identifying and treating cavities, or if you would like to schedule a visit to see if you need treatment, then please contact our team today to learn more.
Do You Have Fillings About Cavity Treatments?
We would like to help you enjoy a healthy smile free of discomfort and tooth decay. For more information on our dental fillings, then schedule a consultation, call Jeffrey Leibowitz, DDS, in Astoria, NY, today at 718-728-8320.