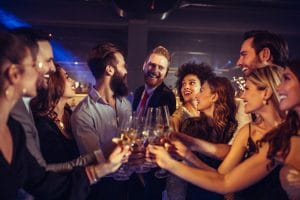 Well, December is coming to an end, and 2019 with it! In today's blog, we would like to talk about all of the fun and exciting events taking place in Astoria. In addition, remember that we're available to help you enjoy a healthy smile, with a full range of preventive, cosmetic, and restorative treatments to return smiles to full function and health!
Community Events
New Years Eve at Hangar Astoria: Hangar Bar is hosting a four-hour open bar starting at 9pm. Admission is $75 and includes passed appetizers, party favors and prizes, live DJs and entertainment, food stations, and more! The venue is located at 2843 Steinway Street. Ring in the new year at a unique and interesting venue!
The Trial of the Incredible Hulk: If you want to start the new year with some laughs, check out QED's The Trial of the Incredible Hulk by Movies R Dumb. Admission is $10 and the venue is located at 27-16 23rd Avenue. Comedians will watch this terriblefilm and then roast it, featuring Frank Conniff of Mystery Science Theater 3000 and other talented comedians! The show takes place on January 14th.
The Lineup: The LIC Tonsorial Barber Shop and Shaving Parlor on 32-86 Steinway Street will be hosting The Lineup, a night of comedy taking place on January 4th. The $20 entry fee also includes free drinks, and you can you see stand-up from Omar Thompson, Jax Dell'Osso, Jared Harvin, Michael Scott, Barry Ribs, and Ayanna Dookie. What better way to enjoy a Saturday night with you friends and family?
NYE at Central Lounge: Central Lounge will be hosting a New Year's Eve celebration today starting at 8pm and lasting until 4am. Admission includes a complimentary champagne toast at midnight and a buffet is available next door at Astra. Must be 21 and up to take part. A great way to celebrate with your close friends!
Ready for Your Next Visit?
We would love to help you enjoy a healthier and brighter smile in 2020. For more information on our comprehensive treatment options, then schedule a consultation, call Jeffrey Leibowitz, DDS, in Astoria, NY, today at 718-728-8320.