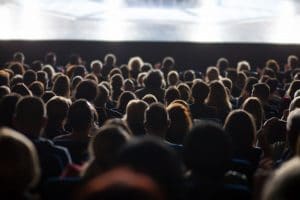 This weekend is a busy one in Astoria, NY, from family friendly film festivals to live events and standup, there is something for everyone. Be sure to check out today's blog and plan your weekend fun. In addition, don't forget that we're here with cosmetic dentistry to help you brighten your smile before your next big community event.
Community Fun
9th Annual Queens Film Festival Family Friendly Screening: The family friendly portion of the 9th Annual Queens Film Festival will take place on Sunday, March 31st from 3pm to 5pm. There will be screenings of six imaginative short films, fun for viewers of all ages. Admission is $9 to $15. The screening will take place at the Museum of the Moving Image on 36-01 35th Avenue.
Creek Cave Live: The Creek and The Cave will be hosting a touring show of standup favorites from the area. Attending the show includes a free PBR (and a free shot if you sit on the front row). The show takes place on Friday, March 29th from 8pm until 10pm. Admission is $5. The venue is located at 10-93 Jackson Avenue.
Queens World Film Festival: The Queens World Film Festival will be presenting Freedom of Expression on Sunday, March 31st from 4:45pm until 6:45pm. Admission is $15 and the screening features five films covering daring subject matter and discussing human rights. The screening will take place at Zukor Theater in Kaufman Astoria located on 35-11 35th Avenue.
Backsplash Stand Up Comedy: The Astorian (located on 28-50 31st Street) will be hosting Backsplash Standup Comedy on Sunday, March 31st from 6pm until 10pm. Admission is $5 and features four unique and hilarious standup comics. If you purchase tickets on Eventbrite, you get a two for one deal. You can also enjoy a full menu, cocktails, and craft beer.
Let's Talk About Cosmetic Care
Our team offers treatments to improve your smile's beauty, some of which brighten and transform smiles in just one visit. For more information on our approach to cosmetic dental care, schedule a consultation with us by calling Jeffrey Leibowitz, DDS, in Astoria, NY, today at 718-728-8320.