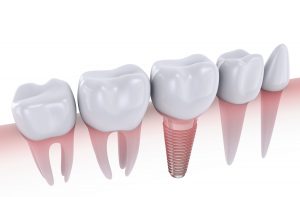 If you've lost one or more of your natural teeth, then don't let tooth loss impact your life and smile in 2019. Instead, talk to your Astoria, NY, dentist about implant dentistry. With dental implants, we help our patients enjoy a full and beautiful smile once again!
How Tooth Loss Harms Your Smile
The impact of tooth loss isn't just limited to appearance. In addition to a gap in your smile, you may be more likely to develop misalignment, TMJ disorder, bruxism (teeth grinding), and as you lose jawbone density, an older appearance and further tooth loss. Addressing your missing teeth as soon as possible helps prevent complications and allows you to enjoy a whole smile once again.
The Implant Process
Dental implants don't rely on crowns like bridges, or natural suction like removable dentures. Instead, we insert them into the jawbone, where they act as new tooth roots. After the placement area heals and the dental implant bonds with the jaw tissue, we move onto the restoration. A custom-made dental crown, the restoration addresses the visible portion of your new tooth. If you have multiple missing teeth, then we could place several dental implants to secure a custom-made bridge or denture, one that will remain fixed in place.
The Benefits of Implant Dentistry
The bonding process between the new teeth and the jawbone stimulates the growth of jawbone tissue, preventing an aged appearance and ensuring the new teeth have the potential to last decades. The crowns we use not only look natural, but also have the ability to withstand powerful bite forces and serious pressure. As a result, you enjoy a natural looking tooth that lasts for many years to come, restoring your ability to smile with confidence and eat your favorite foods. If you have any questions about addressing tooth loss, then contact our team today.
Do You Have a Missing Tooth?
If you have lost one or more teeth, then contact our team to talk about dental implants! For more information, schedule a consultation with us by calling Jeffrey Leibowitz, DDS, in Astoria, NY, today at 718-728-8320.