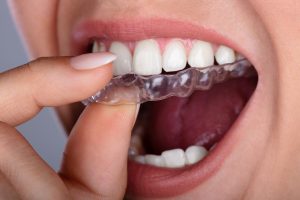 Misalignment occurs for a number of different reasons, from issues with tooth eruption to premature tooth loss. Without treatment, these issues lead to serious impacts on our smile's health and beauty. In order to correct these issues without relying on metal orthodontics, we create a series of aligners from a clear plastic material. How do we correct smiles with clear aligners in Astoria, NY?
What Should I Know About Misalignment?
Did you know that even if you brush and floss, misalignment makes removing food particles difficult? Often, bits of food can become stuck between the teeth, causing bacteria to break them down and leading to a greater risk of tooth decay and gum disease. An uneven smile also increases the chances of TMJ disorder and bruxism, as crooked and crowded teeth place pressure on the jaw joints. Not to mention the impact on your social life, as misalignment tends to leave people embarrassed about their smiles and not very eager to show them off in pictures.
Creating ClearCorrect Aligners
The aligners will be custom-made, which ensures a comfortable fit and accurate treatment. We take detailed digital impressions of your smile, which involves gathering images of your teeth. These images will be used to design and craft your aligners from a BPA-free plastic material. Once ready, we will give them to you to begin treatment. Patients will wear one set for between 20 and 22 hours daily, removing them only for short periods to eat or brush and floss the teeth. Approximately every two weeks, you will upgrade to a new set as your teeth are gradually and gently repositioned. The total treatment time varies, but usually takes about a year.
The Benefits of Cosmetic Aligners
First, they fit comfortably and help you avoid the gum and cheek irritation often encountered with metal braces. Being removable means no worries about food become stuck in your orthodontics and the brushing and flossing process is much, much easier. Treatment time is often shorter than is required for metal braces and you will enjoy fewer office visits. Finally, clear aligners mean barely visible orthodontics, so you don't have to worry about how braces will impact your professional appearance. So, if you have an uneven smile, talk to our team about the ClearCorrect system. We want to help you obtain a beautiful, even smile and better oral health. We can also discuss cosmetic treatment options, such as professional teeth whitening and lifelike veneers to address other esthetic concerns.
Ready for Clear Braces?
Using ClearCorrect clear braces, we want to help our patients enjoy more beautiful smiles! For more information on clear orthodontic treatment options, schedule a consultation with us by calling Jeffrey Leibowitz, DDS, in Astoria, NY, today at 718-728-8320.