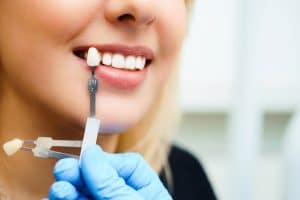 We know we're only in October, but if you want to obtain a more attractive smile before the holiday season arrives, then you should talk to us about cosmetic dentistry. We have an array of treatments to help Astoria, NY, patients enjoy more esthetically-pleasing smiles. Find out more about our cosmetic treatments in today's quiz.
Try Our Quiz on Cosmetic Dentistry
True or False: We can remove teeth stains.
True or False: Our team can fix teeth in one visit.
True or False: Veneers transform smiles in just two visits.
True or False: We have clear braces.
Answer Key
True. If you have discoloration, we have an at-home system to remove stains. We create a set of plastic trays and provide a bleaching gel. At home, the patient fills the tray with gel and wears it for a half hour to 45 minutes each day. Over the course of one to two weeks, teeth may be brightened by multiple shades.
True. Dental bonding involves using the same material as our tooth-colored fillings to repair chipped teeth, mask teeth stains, and close gaps between the teeth. Contouring involves buffing away a small section out outer enamel to remove pits and grooves in the tooth's surface and dull overly pointed teeth. Both can be completed in a single visit.
True. A veneer fits over the tooth, covering the fronts and sides. The thin restoration then masks discoloration, reshapes malformed or damaged teeth, and closes gaps between the teeth. We also use them to correct the appearance of your misalignment. Placement only takes two visits!
True. If you have an uneven smile and don't want to wear metal orthodontics, we have clear, removable alternatives with the ClearCorrect system. If you have any questions about our clear aligners or any of our other cosmetic treatments, then contact our team today.
Do You Need Cosmetic Dentistry?
We want to help you enjoy a beautiful smile, one free of discoloration. For more information, schedule a consultation with us by calling Jeffrey Leibowitz, DDS, in Astoria, NY, today at 718-728-8320.