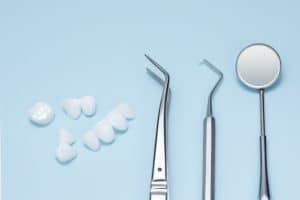 If you have issues with the shape and color of your teeth, then you need cosmetic dentistry. While we have a variety of cosmetic treatments available, today we would like to discuss veneers specifically. We can use a single cosmetic treatment to cover your smile's flaws, transforming your teeth in as little as two visits. Do you have questions about porcelain veneers?
Frequently Asked Questions About Veneers
Question: What cosmetic issue can they correct?
Answer: We can use the restorations to mask permanent teeth stains, the kind of discoloration that would not otherwise respond to teeth whitening. We can also reshape malformed or misshapen teeth, lengthen worn down teeth, and repair minor chips. We can also close gaps between teeth and correct the appearance of minor misalignment.
Question: How do you create and place them?
Answer: We begin by preparing the teeth, which means removing a thin layer of outer enamel. We then take detailed impressions of the prepared teeth, which a dental lab will use to design and create the restoration. Once complete, the patient returns for a second visit, during which we place the veneer with a powerful bonding agent.
Question: Will they blend with the rest of my smile?
Answer: Yes! We create them using porcelain, a very strong material that is also stain-resistant. In addition, we can shade the material to blend with the rest of your smile, ensuring a natural looking restoration.
Question: How do I ensure they stay bright?
Answer: To keep them strong and bright you need to maintain good oral health. From home, this means brushing your teeth twice a day, flossing every night before bed, and cutting back on sugary foods and drinks. You also need to see us every six months for a thorough checkup and cleaning, during which we can monitor your new restorations.
Do You Have Questions About Porcelain Veneers?
At Jeffrey Leibowitz, DDS, we can help you enjoy a healthy and stunning smile. We've proudly served our patients in Astoria, NY (including Queens, Manhattan, Brooklyn, and all surrounding communities) since 1991. To schedule an appointment with Dr. Leibowitz, call our office in Astoria today at 718-728-8320.