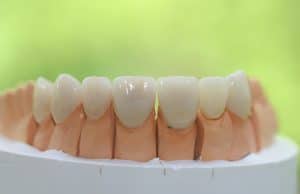 When a patient comes to us with stained teeth or issues with the shape of their teeth, we can often correct these flaws with a unique dental restoration. Porcelain veneers can allow our team to completely transform a smile in as little as two visits. How do veneers fix a smile? What does placing one involve?
Frequently Asked Questions About Porcelain Veneers
Question: What cosmetic issues can a veneer fix?
Answer: A porcelain veneer, or shell, is bonded to the front surface of your tooth, rejuvenating all of its visible structure. This makes them an ideal solution for a wider variety of issues than most other treatments can address, including teeth stains and discoloration, chips and cracks, worn surfaces, spaces between teeth, and much more.
Question: What makes them look so lifelike?
Answer: To work properly, veneers have to be precisely designed according to the unique measurements of your tooth. They also have to closely mimic your healthy tooth structure, which dental porcelain accomplishes with highly lifelike results. Porcelain can be tinted to the exact color and shade of your tooth, and because it's semi-translucent (like tooth enamel), it can reflect light just like healthy teeth.
Question:  What can I expect from the placement process?
Answer: Placing a porcelain veneer is usually a minimally invasive, two-step process. First, your dentist will prepare your teeth by carefully sculpting a small amount of enamel from them. Then, he will create highly detailed and accurate molds of your teeth, which a skilled technician will use to create your veneers.
Question:  How do I keep my new restorations bright?
Answer: The good thing about dental porcelain is that it doesn't stain, and it's durable enough to withstand biting and chewing without chipping or becoming damaged easily. However, keeping your healthy tooth structure underneath and around your veneers bright and healthy still requires consistently good hygiene and regular care from your dentist.
Do You Have Questions About Porcelain Veneers?
At Jeffrey Leibowitz, DDS, we can repair and improve the esthetics of your smile. We've proudly served our patients in Astoria, NY (including Queens, Manhattan, Brooklyn, and all surrounding communities) since 1991. To schedule an appointment with Dr. Leibowitz, call our office in Astoria today at 718-728-8320.