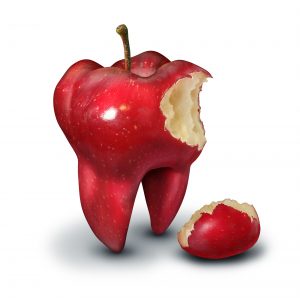 What happens when a tooth becomes broken or cracked? Damage can mean a greater risk of tooth decay and infection, as the sensitive inner tooth structure is exposed to harmful bacteria. Fortunately, we can fix a damaged tooth with cosmetic and restorative treatments, sometimes even in a single sitting.
Options for Fixing a Damaged Tooth
Bonding and Contouring: With these two cosmetic treatments, we can often repair minor damage in one visit. Dental bonding involves applying a composite resin to the tooth, the same material we use in our tooth-colored fillings. We can then sculpt the material and polish it for a more lifelike appearance. Bonding can repair minor chips and also close gaps between the teeth. Contouring involves removing a thin layer of structure by gently buffing it away. We can reshape malformed or damaged teeth, remove pits or grooves in the tooth surface, and dull overly pointed teeth.
Dental Fillings: When you develop a cavity, which can lead to toothaches and an increased risk of eventual infection, we can treat the tooth with a filling. We remove the decay, clean the tooth, and apply composite resin that we have color-matched to blend with the tooth. We then cure the material under a light before polishing the tooth. As with bonding, this only takes one visit.
Dental Crowns: A crown fits over the visible portion of the tooth and can address serious chips and fractures. We can use an array of materials to create them. For the front facing teeth, we can use natural looking ceramic. For the rear and side teeth, which must endure more powerful bite forces, we can use zirconia or porcelain-fused-to-metal.
Veneers: Thin shells of porcelain we use to address cosmetic issues, veneers can also be placed to address minor chips.
Do You Have a Damaged Tooth?
At Jeffrey Leibowitz, DDS, we can repair your cracked or chipped tooth, sometimes in a single visit. We've proudly served our patients in Astoria, NY (including Queens, Manhattan, Brooklyn, and all surrounding communities) since 1991. To schedule an appointment with Dr. Leibowitz, call our office in Astoria today at 718-728-8320.