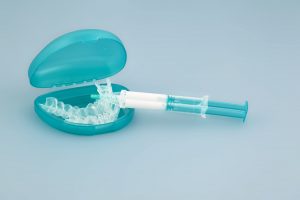 If you have unsightly yellow or brown stains on your teeth, you may feel self-conscious about your smile. Instead of relying on store bought solutions, such as strips or rinses, why not see your dentist for professional grade teeth whitening? We can help lift discoloration and brighten your smile!
Try Our Quiz on Teeth Whitening
True or False: Our daily habits can lead to discoloration.
True or False: You can remove stains from the comfort of your own home.
True or False: Routine care can help your smile stay bright.
True or False: You can keep the trays and gel for touch ups down the road.
Answer Key
True. When we consume foods and drinks that contain a lot of sugar, the risk of staining increases. The process of bacteria breaking down sugar particles often coats the teeth in plaque buildup, a bacterial byproduct that makes the appearance of stains more likely. In addition, smoking and tobacco use has also been linked to teeth stains. We also recommend cutting back on drinks with dark pigments, such as soda, red wine, fruit juice, tea, and coffee.
True. We will provide the patient with a set of plastic trays and a bleaching gel. Each day, the patient will fill the trays with the gel and wear them for the amount of time the doctor recommends. Typically, this is about one to two hours a day. Total treatment takes about one to two weeks.
True. When you brush and floss, and also see us for a cleaning, you reduce the amount of plaque that can form. Your smile then stays brighter for longer periods.
True. You can use your trays and any remaining gel to target stains that may appear six months or so down the line.
Do You Have Discoloration?
At Jeffrey Leibowitz, DDS, we can employ professional treatments to help you enjoy a beautiful, bright smile. We've proudly served our patients in Astoria, NY (including Queens, Manhattan, Brooklyn, and all surrounding communities) since 1991. To schedule an appointment with Dr. Leibowitz, call our office in Astoria today at 718-728-8320.