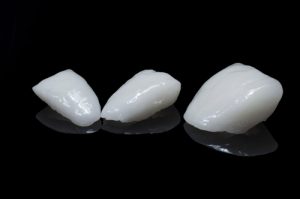 In order to transform the appearance of your smile, you probably assume we would need to remove a substantial amount of your tooth structure and place a series of crowns. However, what if we had a conservative and esthetically pleasing alternative? With veneers, we have a conservative way of addressing cosmetic concerns!
What Cosmetic Concerns Do They Address?
We can use them to mask permanent teeth stains, which may not respond to whitening procedures. They can also be used to repair teeth that have become chipped, broken, or were naturally malformed. We often place them to close gaps between teeth or to even correct the appearance of misalignment. They can address a number of issues and completely change the shade and shape of your teeth.
How Do You Place Them?
First, we need to remove a very thin layer of tooth enamel. We do this to make room for the new restorations. Afterward, we take detailed impressions of the teeth. Doing so allows our ceramist to create your custom veneers. Once complete, the dentist will check the fit and if necessary, make any adjustments. Finally, we place them using the same bonding agent we use for dental crowns.
What Steps are Necessary to Maintain Them?
Once in place, you can continue to practice good homecare to preserve them and safeguard your natural teeth against decay or gingivitis. We recommend brushing your teeth twice a day, once in the morning and again before you go to sleep. In addition, you also need to floss each night before bed. Finally, always make time every six months for a checkup and cleaning. Along with keeping your smile healthy, these visits allow the dentist to monitor your new restoration and ensure they continue to provide quality smile improvement.
Ready to Try Dental Veneers?
At Jeffrey Leibowitz, DDS, we can place a thin restoration to help transform your smile. We've proudly served our patients in Astoria, NY (including Queens, Manhattan, Brooklyn, and all surrounding communities) since 1991. To schedule an appointment with Dr. Leibowitz, call our office in Astoria today at 718-728-8320.