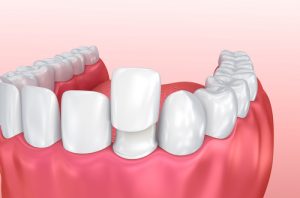 We offer a number of cosmetic treatments, from teeth whitening systems to gum contouring. However, with one procedure we can address several esthetic concerns at once, completely transforming your smile. Porcelain veneers are a strong and natural looking cosmetic restoration. How do veneers completely change a smile's appearance?
Try Our Quiz on Veneers
True or False: We first prepare the teeth.
True or False: The veneers will be custom-made.
True or False: Porcelain is very lifelike.
True or False: You can help them stay bright.
Answer Key
True. To make room for the restoration, we need to remove a thin layer of enamel. Afterward, we can take detailed impressions of the teeth. The impressions allow a ceramist at a dental lab to create a set of custom restorations from porcelain material.
True. They will be custom-made to ensure they blend with your teeth and look natural.
True. First, porcelain can be shaded to better blend with surrounding teeth. The material is also translucent and can reflect light in a similar manner as enamel. Finally, the material also contains stain-resistant properties. Once placed, your restoration will look natural and help mask teeth stains, reshape malformed or damaged teeth, correct the appearance of minor misalignment, and even close nay unsightly gaps between teeth.
True. Caring for them involves cutting back on sodas and other drinks with dark pigments. You should also be brushing your teeth twice a day and flossing once a day to help combat plaque buildup. We also urge patients to see us every six months for a checkup and cleaning. The cleaning helps them stay bright, while the checkup allows the doctor to monitor them and ensure they're providing quality restoration.
Do You Think Veneers Can Help Your Smile?
At Jeffrey Leibowitz, DDS, we can use cosmetic restorations to alter the shade and shape of your teeth. We've proudly served our patients in Astoria, NY (including Queens, Manhattan, Brooklyn, and all surrounding communities) since 1991. To schedule an appointment with Dr. Leibowitz, call our office in Astoria today at 718-728-8320.