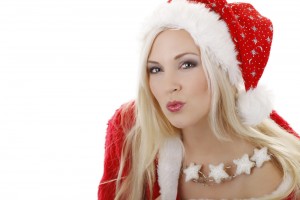 'Tis the season of many things for many people. Among those things is the excitement of ringing in the New Year, traditionally with a kiss from the love of your life. This year, you probably want the moment to be memorable for the right reasons. To help ensure your New Year's kiss is a good memory, Astoria cosmetic dentist Dr. Jeffrey Leibowitz explains what makes a mouth kissable.
A Stain-Free Smile
A quick check in the mirror and a toothpick can help you avoid showcasing remnants of your last meal stuck between your teeth. Other remnants from meals past, however, may not be so easily dealt with. Your smile is often one of the first and most-often noticed aspects of your face, and hopefully you'll be smiling in abundance this season. Making sure your smile is composed of stain-free teeth is important to making it kissable.
Fresh Breath
This should come as no surprise, but nothing can deter a kiss faster than foul-smelling breath. The olfactory sense (smell) is a powerful tool, and as humans, we cannot always control our reactions when that sense is offended. Good oral hygiene helps control the bacteria that are largely responsible for bad breath, as well as tooth decay and gum disease. Fresher breath increases your mouth's appeal and helps you avoid being embarrassed by a recoiling partner.
Confidence
Although slightly clichéd, confidence does make all the difference. When your teeth are at their whitest, your breath is at its freshest, and your mouth is at its healthiest, your pride in your smile will show through. Studies show that healthy, confident smiles are a main contributing factor to a person's attractiveness. Enough confidence may take your mouth beyond kissable and closer to the realm of irresistible.
We Can Help
If you'd like to learn more about preparing your mouth for the New Year, or would like to schedule a consultation with your Astoria cosmetic dentist to prepare your smile for the holidays, contact Dr. Leibowitz by calling our Astoria dental office at (718) 728-8320. Located in the 11106 area, we proudly serve patients from Astoria, Queens, Manhattan, Brooklyn, and the surrounding communities.