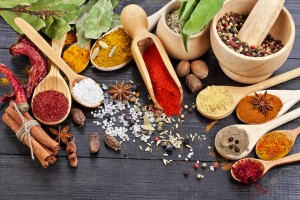 Without herbs and spices to compliment our meals, eating would probably not be as enjoyable as many of us find it now. But did you know that some seasonings may do more than satisfy your taste buds? Certain herbs and spices are also beneficial to your health, including your oral health. With Thanksgiving just around the corner, herbs and spices will be used (and consumed) in abundance. To help you make the most of your feast this year, Astoria family dentist, Dr. Jeffrey Leibowitz, names a few spices with specific benefits to your oral health.
The Season(ings) for Healthy Mouths
Cinnamon—A crowd favorite, the smell and taste of cinnamon is often associated with the holiday season. It also contains antioxidants that help regulate things like blood sugar and cholesterol. Antioxidants are also known to help fight harmful bacteria and other free radicals that can damage soft tissue cells (like gum tissue).
Bloodroot—Though the name may cause you to hesitate, bloodroot is only named so because of the red-orange sap found in its roots. The herb contains an antibacterial agent that kills plaque and gingivitis-causing microbes. It is found in some toothpaste and mouthwash, but we advise against eating it raw; its color can dramatically stain your mouth, and high concentrations of the herb may cause mouth lesions to form.
Paprika—This plant, similar to chili but milder, contains capsaicin, an antioxidant and anti-inflammatory agent. Researchers believe these qualities may lower the risk of some cancers, and the anti-inflammatory properties can help reduce or prevent gum disease.
Green tea—Ancient Eastern cultures believed that green tea held mystical healing properties. The beverage and its leaves were often used in attempts to heal wounds and cure disease. In modern times, science has shown green tea can benefit your health through its antioxidants, which improve your body's defense against infection and disease. Green tea also contains a substance called catechins, which helps fight oral bacteria responsible for plaque and bad breath.
If you'd like to learn more, or would like to schedule a consultation with your Astoria family dentist, contact Dr. Leibowitz by calling our Astoria dental office at (718) 728-8320. Located in the 11106 area, we proudly serve patients from Astoria, Queens, Manhattan, Brooklyn, and the surrounding communities.