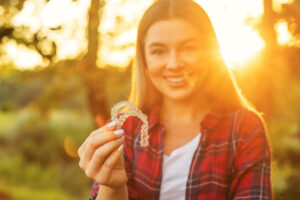 Have you been thinking about correcting the spacing of your smile? If you have problems with crowded, crooked, or overlapping teeth, we invite you to consider an alternative to traditional braces. Clear aligners offer a system of BPA-free trays that fit neatly to each row of teeth, gently pulling them into position. Enjoy a translucent orthodontic option that will not call attention to itself! In today's blog, your Astoria, NY dentist discusses the advantages of custom aligner treatment.
Treating Misalignment Before It Gets Out Of Hand
Problems with the spacing of your bite are much more than an aesthetic issue. While correcting your smile brings wonderful cosmetic benefits, straighter teeth come with wonderful functional improvement. When your bite is out of alignment, certain teeth take a disproportionate amount of force. This leads to accelerated wear of the protective enamel layer, exposing the sensitive inner portion. Without treatment, your risk of cavities and gum disease rises greatly. To compensate for an uneven bite, your jaw may move in awkward positions, causing repetitive stress on its joints. This stress can lead to TMJ disorder or cause chronic teeth grinding, damaging your bite even further. To prevent your oral health from reaching this stage, discuss your options for orthodontic correction with your dentist right away!
Creating Your Smile Aligners
Everyone's bite is unique, which means we create a unique set of treatment trays for every clear aligner patient. When you visit for a consultation, we take a digital imprint of your bite. This file allows us to project what your smile will look like after treatment on an in-office monitor. Moving forward, we send the same file to a technician at an offsite lab where they create your treatment system. After receiving your aligners, we will give clear instructions on receiving the full benefits of your treatment.
Wearing Your Custom Orthodontics
The success of clear aligner treatment depends upon your adherence to wearing your custom trays. Each pair operates in succession to bring your smile closer to its end goal. In general, you will wear your trays for 20 to 22 hours each day and while you sleep, take them off to brush your teeth and enjoy your meals. Their removability also means you can take them off for photographs, but in general, you will wear them throughout the rest of your day. Enjoy cleaning your teeth more easily without the distraction of permanent brackets or archwires.
Talk To Your Astoria, NY Dentist About Cosmetic Orthodontics
If you would like to take on problems with your smile's alignment and want to learn more about this treatment option, then please call Dr. Jeffrey Leibowitz, DDS at 718-728-8320. A beautiful smile is possible, and we want to help you achieve it.