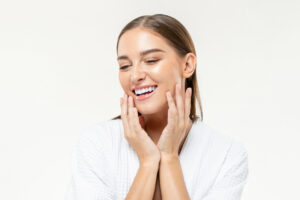 We don't just offer teeth whitening to improve smile beauty. We also have a comfortable approach that can address multiple issues with smile beauty in one visit. In today's blog, your Astoria, NY, dentist talks about dental bonding and contouring, and how this helps correct your smile's imperfections.
When to See Our Team
If you have cosmetic issues with the appearance of your teeth, then you should schedule a consultation with our team. We will take a close look at your smile with digital imaging technology to assess the cause and severity of your cosmetic concerns. We can then create a treatment plan to correct these concerns, often in only one visit. There is still time to see us for treatment before the year ends and your 2022 dental insurance benefits expire, so be sure to contact us soon!
Dental Bonding
The dental bonding procedure uses composite resin to restore the teeth. This is the same material used as part of our lifelike dental fillings. The procedure takes only one appointment to complete. We first numb your tooth to keep you comfortable as we remove any decay, clean the tooth, and gently etch the outer surface. We then apply the composite resin to the tooth in several layers. Made from a metal free blend of glass-like and acrylic particles, this can be shaded to blend with the tooth and the rest of the smile. We then sculpt the tooth as the composite resin cures beneath a special light. The last step is to posh the tooth for a brighter appearance.
We could use the procedure to mask permanent teeth stains and brighten smiles, or to repair minor cracks and chips in the tooth structure. We can also close embarrassing gaps between your teeth, or even add length to the onset worn down by teeth grinding.
Contouring a Smile
Our team can also offer another cosmetic treatment in the same visit or a separate one. With contouring, we don't add new material or structure to the tooth. Instead, we correct esthetic concerns by sanding and buffing away small sections of outer structure. For example, we could treat minor chips, or dull sharp, jagged, or pointed portions of tooth structure. We can correct misshapen or overlay large teeth too. The procedure could smooth our grooves, rough patches, and pits in the outer structure too.
If you have any questions, then give our team a call today.
Do You Have Questions About Improving Smile Beauty?
We would like to help you enjoy a brighter and more attractive smile! If you would like to learn more about enhancing smile beauty in one visit, then schedule a consultation by calling Jeffrey Leibowitz, DDS, in Astoria, NY, today at 718-728-8320.