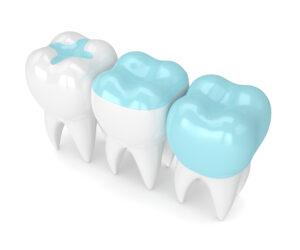 When a tooth becomes cracked or chipped, then it is vulnerable to decay and even infection. To prevent this, or to address a serious injury, we could place a custom-made dental crown. In today's blog, your Astoria, NY, dentist wants to help restore smiles and offer results that look natural!
The Need for a Dental Restoration
When does our team need to place a dental crown? Since they cover the entirety of the tooth's outer structure, this means they can address a number of common restorative and cosmetic concerns. For example, we can treat tooth decay too advanced for a filling, or complete a root canal for an infected tooth. We can repair minor and severe damage, such as chips and cracks, and lengthen teeth worn down by bruxism (teeth grinding). Our team can reshape malformed teeth too, and placement instantly improves a tooth's color and shape. They can even aid in tooth loss treatment, as we can us them to secure a dental bridge in place, or to complete an individual dental implant.
Our Approach to Custom Restorations
To create one, you will first sit down so we can examine the tooth and plan the treatment process, employing advanced digital imaging as part of the process. Next, the tooth is numbed with a local anesthetic, and we remove outer structure to make room for the restoration. Detailed digital images will be taken of the tooth and used to create a 3D impression, one that allows us to design and craft the finished product with precision and accuracy. When possible, we opt for materials like porcelain, porcelain-fused-to-metal, or zirconia, as these can be shaded to blend with a tooth seamlessly. When the restoration is ready, you will return for a second visit so we can attach it with a powerful bonding agent.
Protecting Your Smile
Afterward, good oral hygiene habits can help keep the crown bright and strong, and also safeguard the rest of your smile too. Be sure you continue to see us every six months for a checkup and cleaning, so we can keep a close eye on the smile for signs of trouble, and also remove harmful layers of plaque and tartar too. At home, be sure you brush and floss daily, and cut back on sugary foods and drinks too, as these feed harmful oral bacteria. Try to avoid tobacco products too!
If you have any questions about repairing smiles with a custom dental crown, then contact our team today.
Your Astoria, NY, Dentist Offers a Custom Restoration
We would like to help safeguard the health, function, and beauty of your smile. To learn more about how we repair and restore your teeth, then schedule a consultation by calling Jeffrey Leibowitz, DDS, in Astoria, NY, today at 718-728-8320.