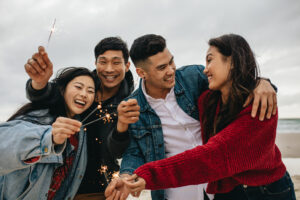 When you have multiple cosmetic issues with the appearance of your smile, then you may benefit from a unique restoration. Porcelain veneers are thin and durable restorations that can enhance smiles in two visits. In today's blog, your Astoria, NY, dentist talks about transforming smile beauty with custom veneers.
The Potential of Our Custom Veneers
Each one will fit over the front of the teeth, instantly changing the color and shape of the tooth. Which means we can employ them to mask permanent teeth stains, the kind that may not respond well to traditional teeth whitening. In addition, we can reshape malformed teeth, repair minor damage, and even lengthen the ones worn down by teeth grinding. Placement could help close embarrassing gaps between the teeth, and also correct the appearance of minor misalignment. This means you could have the appearance of a straighter smile without braces and aligners.
Creating and Placing Them
Each one will be custom-made, which means we first numb the teeth receiving them so we can gently remove a thin layer from the outside of them. Next, we take detailed digital images of the tooth and use them in a dental lab setting to design and craft the finished product. Once your veneers are ready, you will return to the office so we can check the fit, make any necessary adjustments, and then attach them with a powerful bonding agent. With proper care and attention, they can stay in place for years to come, providing quality cosmetic improvement.
Keeping Your Smile Bright
To help them stay bright, and protect the teeth they're attached to, you need to maintain good oral hygiene habits. At home, make time to brush and floss daily as your dentist recommends, and also cut back on sugary food and drinks, as these could promote the plaque buildup linked to tooth decay and gum disease. Be sure you see us every six months too, so we can keep an eye on your new restoration and your natural teeth for signs of trouble, and offer treatment as needed to maintain good oral health. With the cleaning procedure, we remove all plaque and tartar buildup with an ultrasonic scaling device and a manual pick to help protect your teeth and your cosmetic restorations.
If you have any questions about how we treat common esthetic issues with porcelain veneers, then contact our team today to learn more.
Do You Have Questions About Cosmetic Dental Restorations?
Our team wants to help you obtain a stunning new smile in 2023 with cosmetic dental care! If you would like to learn more about our cosmetic dental restorations, then schedule a consultation by calling Jeffrey Leibowitz, DDS, in Astoria, NY, today at 718-728-8320.