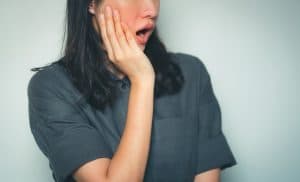 When you damage a tooth, or notice persistent discomfort, then you may have an emergency situation that requires treatment from your Astoria, NY, dentist. In today's blog, we're looking at when you should contact our team for a restoration, and how we repair smiles in need of treatment. When should you see us for a filling or a crown?
The Warning Signs of an Emergency Situation
If you chip or break a tooth, then the injury and damage is pretty obvious and definitely requires a call to our team. However, if you fracture a tooth, the crack in your tooth could be practically invisible to the naked eye, allowing cavities or infection to form due to the injury and leading to discomfort. Likewise, an untreated cavity could lead to toothaches or worsening pain if an infection develops. If you have sudden pain that doesn't pass after a few hours, then let us know. You could have a potential dental emergency situation.
Dental Bonding and Fillings
For minor damage, we could use dental bonding to repair the tooth. The bonding process employs a metal-free composite resin that can be shaded to match the color of your tooth. In one visit, we apply and cure the material, before polishing the tooth for a more lifelike appearance. For cavities, we use fillings, again made using lifelike composite resin, to repair the issue and prevent worsening decay from causing an infection. Both of these options offer repair in a single sitting.
Crowns, Inlays, and Onlays
What if you have more substantial damage, or serious decay or infection? For damage or decay, we may create a restoration for your smile. Partial crowns, known as inlays and onlays, address specific portions of the tooth and are made from ceramic, which is durable and could be shaded to match the color of the surrounding structure. Inlays fit in between the cusps on top for the tooth, while onlays fit over the cusps. A full crown covers the entire visible tooth structure, and is a great solution for serious damage or decay. If a tooth is infected, we use root canal therapy to remove infected tissues, before restoring the tooth with a crown.
When you do visit, our team will be washing hands frequently, wearing gloves and masks, and also cleaning and disinfecting surfaces throughout the office in between each visit. We also schedule appointments so you won't need to worry about sharing a crowded waiting room, you'll have the place to yourself!
Do You Have Questions About Restorative Dentistry?
We want to help you and your family keep your smiles whole and healthy during this time. To learn more about repairing smiles and avoiding major complications, then schedule a consultation, call Jeffrey Leibowitz, DDS, in Astoria, NY, today at 718-728-8320.