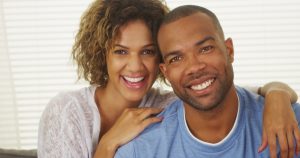 If you have flaws in your smile, whether due to the color and shape or other esthetic issues, then we may have a solution. In fact, we have a unique, conservative way to completely change your smile's appearance, often in just two visits. Let's talk about the benefits that porcelain veneers offer our Astoria, NY, patients.
What Flaws Will Veneers Correct?
Since these thin restorations cover the front and sides of the teeth, they completely alter a tooth's appearance. As a result, we've used them to mask permanent teeth stains, reshape malformed or damaged teeth, and repair worn down teeth. Placement also helps correct the appearance of minor misalignment and close unsightly gaps between the teeth. As you can see, they offer a cosmetic solution to a variety of general and restorative concerns.
How Do You Create and Place Them?
We first need to ensure they will fit correctly and look natural. So, we prepare the teeth by removing a little outer enamel and taking detailed impressions. We use the impressions in a dental lab to fabricate the veneers from porcelain. After we complete the restorations, you will return to the office so we can check the fit, make any necessary adjustments, and then place them.
What Makes Them Look Natural?
We use porcelain to create them, since porcelain reflects light in a similar manner as tooth enamel. The material also contains stain-resistant properties and can withstand powerful bite forces. We also shade the material to ensure it blends with your surrounding teeth. Once in place, they should match the rest of your smile and no one should be able to tell you even have a restoration. If you have any questions about porcelain veneers, or about any of our other cosmetic treatment options, then contact our team today. Let's make 2019 the year you obtain a stunning new smile!
Do You Need Cosmetic Improvement?  
With cosmetic dentistry, we have lifelike options for improving your smile's appearance and function. For more information, schedule a consultation with us by calling Jeffrey Leibowitz, DDS, in Astoria, NY, today at 718-728-8320.