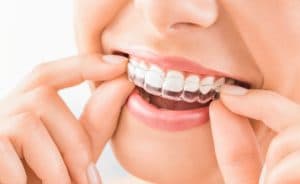 Did you know that braces are not the only option available for correcting misalignment? Adults will be glad to hear that they can obtain an even smile without sacrificing their professional appearance. We can use ClearCorrect to reposition your teeth and help you enjoy a healthier, more beautiful smile.
ClearCorrect or Braces?
Metal braces involve brackets being attached to the front facing sides of the teeth. An arch wire connects them, and the dentist adjusts the tension in the wire to move the teeth. With ClearCorrect, we use a series of aligners created from a BPA-free plastic material. The patient wears a set daily to correct misalignment in as little as a year in some cases.
Creating Your Aligners
To create your aligners, we first take detailed impressions of your teeth, as well as photographs and x-rays, and sends these materials to a special lab. There, professionals will use the provided materials to design and create your aligners. We can then provide them to the patients along with detailed instructions for their care and use.
Daily Use
Each day, you will wear a set for between 20 and 23 hours. Approximately every two weeks you will upgrade to the next set. Your teeth will be gradually and carefully repositoned with the aligners, your treatment remaining barely visible to others.
You can continue to eat your favorite foods, as the aligners can be removed before meals. Being removable means brushing and flossing your teeth is significantly easier than if you were wearing braces, which helps you maintain optimal oral health throughout treatment. When compared to braces, you also enjoy fewer office visits and shorter treatment periods. If you have an uneven smile and would like to discuss clear aligners, then contact our team today. We're happy to address any questions or concerns you may have about our orthodontic treatment options.
Do You Have Questions About Clear Aligners?
At Jeffrey Leibowitz, DDS, we can offer practically invisible solutions to misalignment. We've proudly served our patients in Astoria, NY (including Queens, Manhattan, Brooklyn, and all surrounding communities) since 1991. To schedule an appointment with Dr. Leibowitz, call our office in Astoria today at 718-728-8320.