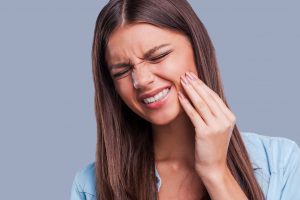 A dental emergency refers to any pain, discomfort, or injury related to the teeth or gums. If the issue is potentially life threatening, then proceed to the ER. Otherwise, simply give us a call and we'll set up a time to visit as soon as possible. We also have tips for easing your discomfort in the time between calling us and seeing us.
Addressing Common Dental Emergency Situations
Damaged Teeth: When a tooth is broken or cracked, you should see the dentist. Even a minor chip could increase the risk of tooth decay or infection. Damage exposes the sensitive layers of dentin, which are typically protected by enamel, to harmful bacteria. Often, we can repair the tooth with a crown or dental bonding. Before seeing us, you should try to recover any pieces of the tooth you can. We also suggest rinsing with warm water and placing a cold compress against the side of the face to reduce swelling.
Knocked-Out Teeth: If you knock out a tooth, pick it up by the crown, never touch the root. Rinse the tooth under running water to remove dirt (but take care not to remove any tissue). Bring the tooth with you to the office, either placed back onto your socket or into a glass of milk or salt water. Time is a factor, we have a greater chance of saving the tooth if it's returned within an hour.
Sudden Toothache: A toothache could indicate a cavity, infection, or injury. You can take an over-the-counter pain reliever to ease discomfort until we can see you.
Loose or Lost Filling/Crown: See us right away so we can address the issue, as a loose or lost restoration exposes the tooth to harmful bacteria. You can also use dental cement from a pharmacy to affix the restoration until you can see us.
Do You Have Questions About Emergency Dentistry?
At Jeffrey Leibowitz, DDS, we can address any damage to your smile and recommend options for easing your discomfort. We've proudly served our patients in Astoria, NY (including Queens, Manhattan, Brooklyn, and all surrounding communities) since 1991. To schedule an appointment with Dr. Leibowitz, call our office in Astoria today at 718-728-8320.