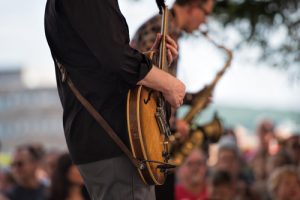 We're almost to the end of summer, but there are still plenty of fun activities taking place in Astoria. In today's blog, we're going to talk about some fun and exciting upcoming events. In addition, we want to remind everyone that it's never too late to obtain a brighter smile. With cosmetic dentistry, we can address discoloration, as well as issues with the shape and alignment of the teeth.
Astoria, NY Community Events
BWAC Summer Shows: The Brooklyn Waterfront Artists Coalition is presenting a summer concert series through next week. Admission is free and the shows take place at 481 Van Brunt (Door 7) in Red Hook, Brooklyn. You can find out more details by calling 718-596-2507 or by visiting www.bwac.org. Saturday, August 12th will feature Braxton Hicks and The Mission Boys, A Century Of Fakers, and World Cabaret. Sunday, August 13th will feature Harry Oppenheimer, The Owlflies, and Ryan Chernin and Ev. Next weekend, on Saturday, August 19th you can catch Absurdo and the Coyote and the Greenstreets. The final show on Sunday, August 20th will feature Jerram Original Network.
Summer Festival: The 31st Street Astoria Street Fair will take place on Sunday, August 13th from 11am until 6pm. The fair is at 31st Street between Ditmars Blvd and 21st Avenue. Sponsored by the Kiwanis Club of Astoria, the fair features shopping, food, rides for kids, and a fire safety demonstration from the FDNY. Heavenly Angels will also be having a Mobile Pet Adoption.
Do You Need to See a Dentist?
At Jeffrey Leibowitz, DDS, we're ready to help you enjoy a beautiful and healthy smile with a comprehensive approach to dentistry. We've proudly served our patients in Astoria, NY (including Queens, Manhattan, Brooklyn, and all surrounding communities) since 1991. To schedule an appointment with Dr. Leibowitz, call our office in Astoria today at 718-728-8320.