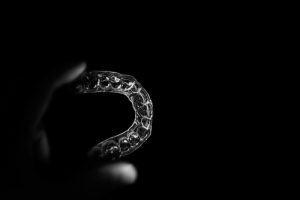 Do you have teeth that crowd or overlap? If so, then improving your smile's heath and appearance may require orthodontic treatment. However, this doesn't mean that you will need to wear metal braces. We can often correct smiles without braces using clear plastic aligners.
Braces vs. ClearCorrect
Braces involve placing metal brackets onto the front facing side of your teeth. An arch wire is then connected to the brackets. Over time, the dentist orthodontist will adjust the tension, repositioning the teeth. With ClearCorrect, we don't use metal brackets and wires at all. Instead, we take detailed impressions of your smile, which are used to create plastic aligners. The patient then wears the aligners all day and night, upgrading to a new set over the course of one to two weeks.
What Benefits Do Aligners Offer?
First, patients often consider them to be more comfortable than metal braces. They can also be removed before you eat, which means you don't need to avoid certain foods. You can also take them out to brush and floss your teeth, which helps you smile stay healthier and brighter during the treatment process. Finally, when worn, the aligners are practically invisible!
What Happens If I Never Address My Misalignment?
Without treatment, misalignment can make brushing and flossing your teeth difficult. You can develop a greater risk of tooth decay and gingivitis as uneven teeth provide plenty of hiding places for food particles and oral bacteria. In addition, the strain that uneven smiles can place on the jaw joints can make the onset of TMJ disorder and bruxism more likely. In all, correcting this issue can help you enjoy an esthetically pleasing and healthier smile. If you have any questions about the ClearCorrect system, then please contact our office today.
Ready to Try ClearCorrect?
At Jeffrey Leibowitz, DDS, we can help improve your health with clear orthodontic aligners. We've proudly served our patients in Astoria, NY (including Queens, Manhattan, Brooklyn, and all surrounding communities) since 1991. To schedule an appointment with Dr. Leibowitz, call our office in Astoria today at 718-728-8320.