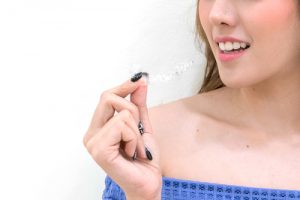 If you have teeth that crowd or sit crooked, then you most likely assume your only option for addressing the problem is using metal braces. These can be uncomfortable, and have an impact on your smile's appearance that no one, especially teens and adults, would enjoy. Fortunately, we can help correct misalignment with the ClearCorrect system. How do plastic aligners fix uneven smiles?
Try Our Quiz on ClearCorrect Clear Aligners
True or False: Each aligner is custom-made.
True or False: Wearing them daily can gradually improve alignment.
True or False: You won't have to avoid certain foods.
True or False: Treatment take about a year.
Answer Key
True. In creating them, we will take impressions of your smile and gather photographs and x-rays. At a dental lab, experts use these materials to create a series of aligners. Being custom-made, they will fit comfortably, offer precise treatment, and allow you to obtain a straighter smile without the need for awkward and uncomfortable metal braces.
True. You will need to wear them every day. For optimal results, they need to be in place between 20 and 23 hours each day.
True. Since you can remove the aligners prior to a meal, you can eat as you always have. You don't have to avoid hard or sticky foods that would otherwise become stuck in metal braces. Being able to remove the aligners also means a simpler time properly brushing and flossing your teeth during treatment.
True. The total treatment time takes about a year, but the exact amount will depend on the cause and severity of your misalignment. If you have any questions about correcting your smile using clear aligners, then contact us today to find out more about the ClearCorrect system.
Would You Like to Learn More About ClearCorrect?
At Jeffrey Leibowitz, DDS, we're proud to help address uneven smiles with a clear and comfortable alternative to braces. We've proudly served our patients in Astoria, NY (including Queens, Manhattan, Brooklyn, and all surrounding communities) since 1991. To schedule an appointment with Dr. Leibowitz, call our office in Astoria today at 718-728-8320.