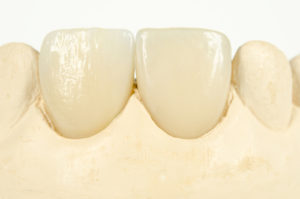 When you break a tooth, or if you develop an oral health concern that threatens one, then we may suggest restorative treatment. This allows us to restore the tooth to full function and health, as well to protect your smile from serious complications. Do you have questions about restorative dentistry?
Commonly Asked Questions About Restorative Dentistry
Question: How do you address tooth decay?
Answer: When a cavity forms we often correct the issue with a filling. After cleaning the tooth and removing decay we apply a composite resin, which can be shaded to blend with your smile. We cure the material under a light before polishing the tooth. Addressing a cavity with a tooth-colored filling helps prevent the decay from becoming an infection.
Question: Can you fix a broken tooth?
Answer: Yes. If you chip or break a tooth we may suggest placing a dental crown. The restoration fits over the visible portions of the tooth. We use ceramic for its strength and lifelike appearance when creating dental crowns.
Question: What happens if my tooth does become infected?
Answer: Should your tooth develop an infection we may perform a root canal procedure. The root canal enables the doctor to remove the infected tissue and restore the tooth to optimal health and appearance. Remember, addressing an infection in a timely manner is key to avoiding tooth loss or the spread of infection.
Question: What are warning signs that I should see the dentist?
Answer: Some signs, such as damaged teeth, are obvious. Other warning signs may include tooth sensitivity or a toothache. Don't ignore sudden discomfort as this could be a sign of decay, infection, or less obvious damage, such as a dental fracture. If you have any questions about our restorative dental treatments, then please contact our office today.
ABOUT YOUR ASTORIA, NY, DENTIST:
Jeffrey Leibowitz, DDS, a native New Yorker, has welcomed patients and families from in and around Astoria, NY(including Queens, Manhattan, Brooklyn, and all surrounding communities) since opening his dental practice in 1991. To schedule an appointment with Dr. Leibowitz, call our office in Astoria today at 718-728-8320.