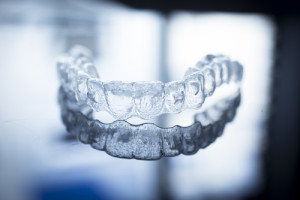 Teeth that are uneven or overlap can have a negative impact on the appearance of your smile. However, few adults and teens are eager to wear metal braces to address the issue. Fortunately, we can offer an alternative with ClearCorrect. Can ClearCorrect address your misalignment? How does this system differ from traditional braces?
FAQs About Addressing Your Misalignment with ClearCorrect
Question: How does misalignment impact my oral health?
Answer: When your teeth are uneven brushing and flossing becomes difficult, which can lead to a greater risk of tooth decay and gum disease forming. In addition, the strain misalignment places on the jaw joints can lead to the onset of TMJ disorder or bruxism (teeth grinding).
Question: What is ClearCorrect?
Answer: Unlike traditional orthodontics, which relies on metal brackets and arch wires to correct the teeth, ClearCorrect uses a series of clear plastic aligners. They are worn everyday between 20 and 23 hours and patients upgrade to a new set about once every two weeks. Over the period of about a year the aligners gradually improve the alignment of the teeth.
Question: Does anyone qualify for clear aligners?
Answer: We typically recommend treatment for people over the ages of 16 who have minor alignment issues. If you are interested in the aligners we can examine your smile and decide if they are the best choice for addressing your misalignment.
Question: Will I need to change how I eat?
Answer: No. With braces, you may need to avoid hard or chewy foods. However, since the aligners can be removed prior to a meal you don't need to change how you eat. In addition, this can make brushing and flossing your teeth during treatment much easier, which keeps your smile healthier. If you have any questions or concerns about our clear aligners then contact our office today.
ABOUT YOUR ASTORIA, NY, DENTIST:
Jeffrey Leibowitz, DDS, a native New Yorker, has welcomed patients and families from in and around Astoria, NY (including Queens, Manhattan, Brooklyn, and all surrounding communities) since opening his dental practice in 1991. To schedule an appointment with Dr. Leibowitz, call our office in Astoria today at 718-728-8320.