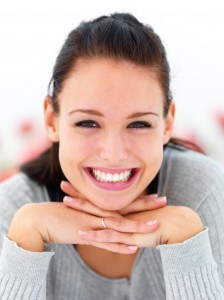 Crooked and misaligned teeth are common among people of all age groups; however the most effective traditional treatment for straightening teeth, metal braces, is usually attributed to children and young teens. Adults must contend with a usually strong sense of self-consciousness when considering braces for straighter teeth. Many choose to eschew the treatment and endure their crooked teeth in lieu of the possible embarrassment of wearing metal brackets and wires to work and social functions. Luckily, you no longer have to choose between discontent from crooked teeth and apprehension about metal braces. Dr. Leibowitz, a family dentist in Astoria who offers ClearCorrect to his patients, explains the revolutionary product that can allow you to have straighter teeth without announcing your treatment to the world.
Why You Should Straighten Your Teeth
If you've refused braces for a while now, you may have convinced yourself that it is just not worth the treatment to straighten your teeth. After all, the people around you don't seem to notice, and your imperfect teeth probably haven't held you back from a successful professional life. However, straightening your teeth is about more than improving the look of your smile. When teeth do not line up properly, due to crookedness or a misalignment, the irregular edges and crevices offer excellent hiding spots for bacteria and the food debris they thrive on. Because they are irregular, these nooks and crannies are often not accessible by your conventional toothbrush and floss. By promoting bacterial growth, your crooked teeth may significantly contribute to the formation of dental health issues such as tooth decay and gum disease, both of which begin with bacterial accumulation.
Be Discrete About It
As a dentist who is dedicated to the oral and overall health of our patients, Dr. Leibowitz knows the dangers that can stem from neglecting your crooked teeth. To help ensure that more patients opt for a healthier and more beautiful smile, he now offers ClearCorrect invisible braces. Unlike traditional braces, ClearCorrect utilizes clear aligners that fit over your teeth much like a mouthguard. The treatment involves a series of these aligners, each custom designed and computer manufactured for the utmost precision and comfort. According to your ultimate smile goals, you'll periodically change aligners as they gradually shift your teeth into the desired position. Because they are clear, you can wear them without anyone noticing, and you can remove them for every day functions like eating and brushing your teeth. If you are dissatisfied with the alignment of your smile, ask Dr. Leibowitz if ClearCorrect braces are the right option for you. Contact Dr. Leibowitz by calling our Queens dental office at (718) 728-8320. We proudly serve patients from Astoria, Queens, Manhattan, Brooklyn, and the surrounding communities.