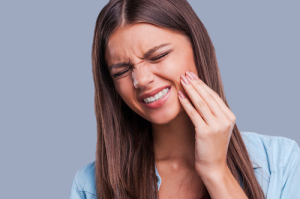 At some point, most of us will develop a toothache. Sudden discomfort can be an indicator that you require dental treatment. Don't ignore pain in your tooth that lasts for more than 48 hours. Instead, schedule an appointment at your earliest convenience. Below, we look at common factors behind toothaches.
Possible Causes
Why do we develop toothaches? Tooth pain can be the result of a number of issues, including:
Tooth decay
Infection
Dental abscess
Injury
Dental chips or fractures
If you have an aching tooth, then don't delay. Schedule a consultation right away for a thorough diagnosis and to discuss treatment options.
Treatment Options
To address an aching tooth, we have a number of different treatment options. The procedure we recommend will depend on the cause of your discomfort. Common treatment options include:
Fillings: For a cavity, we may place a filling. Treatment involves removing decayed tissue and thoroughly cleaning the tooth before placing a lifelike composite resin into the tooth.
Dental Crowns: For advanced decay or damage, we may place a crown. This restoration fits over the visible portion of the tooth, preserving the remaining structure and preventing further decay or infection.
Root Canal Therapy: When a tooth becomes infected, you will require treatment in order to avoid the need for extraction. Root canal therapy involves opening the tooth to remove infected tissue. We will then disinfect the tooth and root canals before adding a restorative filling. Finally, the tooth will be topped with a dental crown to complete the procedure.
Dental Bonding: This procedure can be completed in a single visit. We often recommend bonding for teeth that have been chipped or broken. Using the same material we use in dental fillings, we buildup the missing structure and cure the tooth with a special light. The tooth will then function and look as it did before.
About Your Astoria Dentist
Our Astoria, NY dentist office accepts most major insurance plans. To find out if we accept yours, or to schedule an appointment with Dr. Jeffrey Leibowitz, contact us at (718) 728-8328. We welcome patients living in and around Queens, Astoria, NYC, upstate New York, and New Jersey.