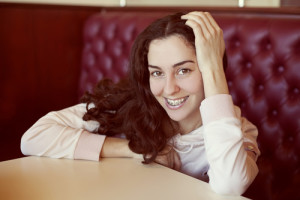 Dr. Jeffrey Leibowitz, your general dentist in Astoria, NY, appreciates that each of his patients has his or her own story to tell. While each is unique, he finds that most share the common desire for a smile that looks and feels healthy and attractive. Cosmetic dentistry isn't a one-size-fits-all solution, so Dr. Leibowitz will take time to speak with you about your personal preferences, concerns, and goals before making his recommendations. In an area as diverse as Queens, we know firsthand that our services don't just appeal to a select few demographics. Take ClearCorrect invisible braces, for example.
Who Is the Typical Candidate for ClearCorrect?
As you will see, there is no "typical" candidate for this popular alternative to traditional metal braces. Other than a desire to have straighter, evenly spaced teeth, you should have otherwise healthy teeth and gums, a willingness to wear your braces as instructed, and the ability to visit Dr. Jeffrey Leibowitz every two to four weeks for a new set of aligners. ClearCorrect patients come from all age groups, professions, and backgrounds. Consider a few hypothetical examples of people who would benefit from ClearCorrect braces in Astoria, NY.
Daniel, who recently moved to NYC to study theater, noticed that the best roles seem to go to actors with attractive, open smiles. His own teeth are crooked and crowded, and he thinks this may be harming his prospects. Acting onstage requires the actor to speak loudly and clearly, and Daniel wonders whether traditional metal braces would make enunciation difficult. Although he wants to straighten his teeth, he's also concerned that metal braces will make him look younger, hurting his prospects of playing a mature role.
Even though Maria has worked for the same company for five years, she's been passed up for countless promotions. She has the right education and experience, but she comes across as aloof and shies away from taking on projects that would require her to interact heavily with others. Actually, Maria loves working with others, but she's embarrassed about the appearance of her smile. Every time she starts to share a great idea, she remembers the prominent gaps between her top teeth and quickly closes her mouth. She doesn't want her co-workers to think poorly of her because of her teeth.
Graham, a senior financial manager at an investment firm, notices that more and more of his subordinates have perfectly white, straight teeth. In a competitive workplace and job market, he needs every possible advantage to keep his edge. He believes that straight teeth will make him more confident during sales pitches and team meetings, but worries that metal braces aren't appropriate for someone who belongs in the boardroom. Graham remembers reading that men with healthy, attractive smiles are perceived by others as more professional, successful, and approachable.
Why Patients Love ClearCorrect
It's hard to deny the impressive results, and our patients have many more reasons to love straightening their teeth with ClearCorrect:
Clear aligners are nearly undetectable by others when worn.
Unlike metal braces, ClearCorrect can be discretely removed before eating, brushing, and flossing.
Without brackets and wires, you needn't worry about cuts or gouges in your gums and inner cheek.
What's your story? To learn more about our services, or to schedule an appointment with Dr. Jeffrey Leibowitz, contact us at 718-728-8320. We provide preventive, cosmetic, and restorative dentistry to patients living in and around Astoria, Queens, upstate New York, and New Jersey. Mention our website and receive a complimentary consultation with Dr. Leibowitz.