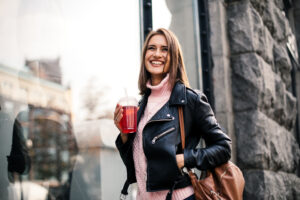 Finding the time to set aside to improve your appearance can sometimes be a struggle. Before you head back into the office and start the new year, think about the positive enhancements you wish to see in 2023. Alongside your regular examination, discover how a cosmetic dental procedure using your own natural material can help you to look your best.
Erase years of stains with at-home whitening treatment from Leibowitz Dental in Astoria, NY. Experience the dual benefits of trained oral health professionalism alongside the convenience of home care. Gum contouring can also allow you to gain the most from your smile by removing unnecessary overgrowth of your periodontal tissue. Keep moving and improving with a new dental enhancement!
Refresh Your Enamel Before You Head Back To Work
This time of year, the people of the city start to resume their daily activities. When our festive decorations go back into storage, it also means that we head back into the workplace. The holiday break can provide an opportunity to revive the whiteness of your smile.
Years of extrinsic stains can leave your teeth looking dull or yellowed. Even if you avoid troublesome activities such as smoking or red wine consumption, many natural foods are full of staining agents that can leave their marks for years to come.
A simple at-home whitening kit could help you to have the best smile possible. Speak with a trained oral health professional while you are here in order to keep your enamel strong. When this material suffers damage with improper whitening, it can lead to dentin sensitivity. Experience the benefits of convenient at-home treatment with an eye on your dental wellness!
Periodontal Contouring Can Bring Tidiness To Your Smile
Another popular form of cosmetic smile improvement comes with gum contouring. This process is the precise shaping of your periodontal tissue and it can bring broad benefits to your look. When the gumline is uneven or overgrown, your teeth may appear stubby or short.
Speak with us today to discover how this procedure can help you to have a gorgeous smile. Gum contouring shows how stunning results can come from precision.
The Most From Your Smile In Astoria, NY
In the city that never sleeps, it can be difficult to set aside enough time to take care of yourself.  Care for your existing dental structures by gently lifting extrinsic stains from your enamel through a hybrid approach. A trained professional can help you to avoid lasting damage to this material.
Precision gum contouring can also help you to look your best. Overgrown and uneven periodontal tissue may be contributing to your cosmetic dental concerns. Discover the benefits of expeditious enhancement by calling Jeffrey Leibowitz, DDS, in Astoria, NY, today at 718-728-8320!