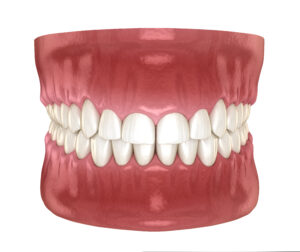 Do you show too much gum when you smile? Known as a gummy smile, this could impact smile beauty and even the appearance of your teeth's alignment. To help correct these issues, your Astoria, NY, dentist could help boost smile beauty with a gum contouring appointment, which offers improvement in only one visit!
The Factors Behind a Gummy Smile
For some, issues with the growth and development of the smile could cause too much gingival tissue to be displayed when you smile. This could also alter the appearance of your teeth, making them appear too small or uneven. For others, poor periodontal health could cause swelling that impacts the esthetics of your smile, and also endangers overall oral health in the process. If you have issues with the beauty of your smile, then contact our team. We will schedule an exam using advanced imaging technology, so we can take a close look at your esthetic concerns and create a treatment plan to correct them.
The Contouring Process
The contouring process uses a radiosurgery unit to improve the appearance of the gums. We gently mark the portion of the gums that need to be removed, and use the radiosurgery unit to gently and carefully trim and reshape the gum line. By not using scalpels and sutures, you have a reduced risk of bleeding and infection, and rarely need anesthesia. The procedure only takes one visit to complete, and you will likely be able to return to normal activities after only a day of rest. We could combine this with our other cosmetic treatments, such as teeth whitening, bonding, and veneers, to offer a full smile makeover, often in as little as two visits!
Protecting Your Periodontal Health
We mentioned your periodontal health above. When you have severe cases of periodontal disease, we could use this system to remove diseased tissues carefully and comfortably. This allows healthy tissues to adhere to the teeth and reduces the depth of periodontal pockets. We can then help manage the disease and safeguard your smile with routine six months checkup and cleaning visits. If you have any questions about treating your gums, whether for cosmetic or periodontal health reasons, then let us know right away. We would love to help you enjoy a strong and healthy smile, one that looks beautiful too!
Do You Have Questions About Improving Smile Beauty?
When you have too much gingival tissue on display, we can help sculpt and reshape your gum line. We could also address issues with the shape, color, and alignment of your teeth as well. To learn more about our approach to correcting smile imperfections, then schedule a consultation by calling Jeffrey Leibowitz, DDS, in Astoria, NY, today at 718-728-8320.