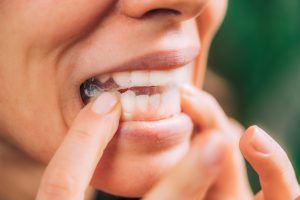 When you have stained teeth, we could help you brighten your smile with a professional system, one that offers teeth several shades brighter. In today's blog, your Astoria, NY, dentist is going to discuss how our Opalescence Strips work, and also what can be done to keep teeth bright and avoid major discoloration in the future.
Professional Teeth Whitening System
You can purchase strips from the store, but they don't offer the same dramatic results, and the stain-removal they do offer won't last as long as our professional option. In addition, they're often linked to stained teeth. With our option we send you home with Opalescence strips and detailed instructions for their use. These could help you obtain a smile brightened by several shades in as little as one to two weeks!
Keeping Teeth Bright
Following your treatment, care is possible to help your new results last much longer. For example, try to cut back on drinks that stain your teeth, such as tea, red wine, coffee, and soda. Also, cut back on foods high in sugar and starch, as these could promote plaque and make discoloration more visible. You can also help with daily brushing and flossing, which helps control plaque by removing stray food particles. Finally, be sure you see us every six months for a checkup and dental cleaning. A checkup allows us to monitor your smile, and the cleaning removes all plaque and tartar, and allows us to polish the teeth for a brighter appearance.
Masking Permanent Teeth Stains
What about permanent teeth stains? Also known as intrinsic discoloration, this forms beneath the outer enamel on your teeth. Even our professional strips may not be enough to address them. Fortunately, we can instantly mask them with the use of dental bonding or possibly even porcelain veneers. No matter how severe your discoloration, we have options to brighten teeth, either in a single office visit or from home in a week or two. We also have esthetic treatments designed to reshape malformed teeth, close unsightly gaps, and even correct your misalignment.
If you have any questions about our cosmetic treatment options, then contact our team to schedule a consultation. We can help you choose the best options for your smile, so you can obtain stunning results that you can't wait to show off to the world!
Ready to Schedule Your Whitening Visit?
We want to help you obtain your brightest possible smile with cosmetic dentistry. To learn more about options to remove or mask teeth stains, then schedule a consultation by calling Jeffrey Leibowitz, DDS, in Astoria, NY, today at 718-728-8320. Don't try to hide your smile from the world, instead talk to our team about how cosmetic dentistry could help!