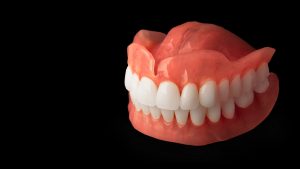 What happens if you lose all of your teeth? Total tooth loss could mean difficulty eating, as well as negative changes to your facial structure. In today's blog, your Astoria, NY, dentist will explain how we address complete tooth loss with a lifelike denture, one that will fit comfortably and last for many years to come!
The Causes and Ramifications of Complete Tooth Loss
What could make someone lose most or all of their teeth? While occasional tooth loss to factors such as tooth decay and dental infection are possible, a more severe case is often linked to periodontal disease. Gum disease impacts millions of us, but once the disease reaches the later stage, known as periodontitis, this actually causes teeth to become loose and fall out. In fact, this is the number one cause of adult tooth loss!
When we lose our smile, this not only makes us appear older, but could complicate how we eat and even speak. We're limited in our nutritional intake, and may experience a lack of social interactions, not to mention embarrassment. To improve quality of life and oral health, tooth replacement is key!
A Full Denture
A full replaces every tooth on one or both of your arches. The prosthetic is custom-made to fit comfortably and offer a lifelike appearance. To begin, our team may extract any few remaining teeth, and then we take detailed digital images and impressions. The resulting information is key to designing and fabricating the finished product in a dental lab setting. The prosthetic will contain a complete row of new teeth placed in an acrylic base that mimics the appearance of gum tissues. We take steps to ensure the teeth look natural. For the lower arch, suction will keep the prosthetic in place, but the denture could require the assistance of a special adhesive for the upper arch. The denture will last about 5 to 10 years, and will need to be cleaned and soaked.
Support with Dental Implants
We could also discuss supporting them with dental implants. Inserting multiple dental implants stimulates the growth of jawbone tissue to prevent a gradual breakdown. The jaw ridge doesn't change shape, so your teeth can last for decades to come. The denture will then be fixed in place, never slipping and never requiring removal for soaking or cleaning. If you have any questions about our removable or implant-secured tooth replacement options, or about avoiding tooth loss with preventive treatments, then contact our team today.
Do You Have Questions About Treating Missing Teeth?
Our team knows that quality prosthetics could help restore the beauty of your smile. To learn more about addressing the loss of your smile, then schedule a consultation by calling Jeffrey Leibowitz, DDS, in Astoria, NY, today at 718-728-8320.