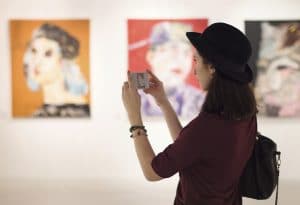 What's happening in Astoria, NY, this weekend? In today's blog, we're looking at four fun events taking place this weekend. If you would like to start showing up at community events with your brightest possible smile, then consider contacting our team to schedule a consultation and start your journey toward a better and more attractive smile!
Community Events
Wide Open 11: The Brooklyn Waterfront Artists Coalition presents their 11th annual national juried art competition, with artworks in display now through March 4th at 481 Van Brunt Street, Door 7. You can view these works, or submit your own with a fee of $65. Be a part of the art community, and see what inspiring works people from across the country have created!
JUMP: The Astoria Performing Arts Center will be presenting a performance of the New York premier of JUMP by Charley Evon Simpson. This award-winning play is about a group of grieving people meeting with a stranger in a bridge, attempting to find common ground and peace. You can catch performances now through February 23th at 28-21 Steinway Street. Tickets are $25, and students and seniors can get tickets for just $20. Be sure to check out this premiere!
Project 44: Take Root will be featuring performances from Project 44 and Annalee Traylor as part o their 11th season! Can view this dance performance between now and march 13th at The Green Space on 37-24th Street, Suite 31. Admission is $17 to $22.
Silent Disco: Quiet Events will be hosting a Silent Latin/Caribbean Disco at Katch Astoria on February 21st at 10pm. The venue is located at 31-19 Newtown Avenue and admission is $5 to $25. You will receive a pair of headphones and can choose from three different live DJs to dance to. Enjoy drink specials, dance lessons, glow in the dark gear, and more! A great date night option for you and your special someone.
Do You Have Questions About Dental Care?
Our team would like to help people in our community enjoy optimal oral health for years to come with routine care and advanced treatment options. For more information on preventive, cosmetic, prosthetic, and restorative dentistry, schedule a consultation, call Jeffrey Leibowitz, DDS, in Astoria, NY, today at 718-728-8320.