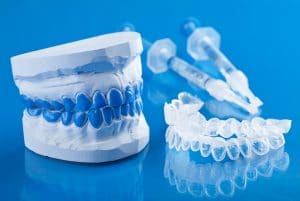 Most over-the-counter teeth whitening systems you use at home don't offer dramatic results, and they could also increase the risk of tooth sensitivity. In order to provide our Astoria, NY, patients with care that brightens teeth and offers long-lasting and stunning results, we may suggest a set of custom trays and a special bleaching gel.
Our Teeth Whitening System
Our system can be used at home, but begins with an initial office visit. After we take detailed impressions of your smile, we create a set of plastic trays. Next, we send you home with these trays and a powerful bleaching gel. Form home, you fill the trays with gel and wear them for about 30 to 45 minutes each day over the course of a week to ten days. The trays help ensure an even whitening and prevent saliva from diluting the bleaching gel. For some, smiles could be brightened by several shades, offering a stunning new smile.
Why Do Stains Form?
In order to avoid serious discoloration in the future, you should know how discoloration occurs. First off, plaque buildup cold make stains more visible (and also increase the risk of tooth decay and gum disease). Drinks with dark pigments, including sodas, teas, red wine, and coffee, could also stain your smile. Foods high in sugar ad starch often feed oral bacteria and increases the risk of plaque buildup, which as we covered, leads to more visible discoloration. If you smoke cigarettes or use other tobacco products, this could stain your smile as well (and of course, increase your cancer risk).
The Benefits of Preventive Care
Now that you know who stains form, how do you reduce their severity? First, brush and floss daily to control plaque buildup, and see us every six months for a cleaning so we can completely remove plaque and polish your teeth. Be sure to eat a healthier diet and cut back on harmful foods and drinks with dark pigments. Be sure you avoid tobacco products as well! Remember, you can keep your trays and gel for touch-ups in the future! If you have any questions about teeth whitening or about keeping your smile bright and healthy, then please contact our team today to learn more.
Do You Need Cosmetic Treatment?
Our team can help you obtain a more attractive smile with professional cosmetic dentistry. For more information on our cosmetic treatments, then schedule a consultation, call Jeffrey Leibowitz, DDS, in Astoria, NY, today at 718-728-8320.