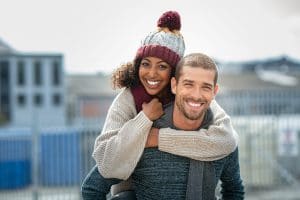 We all want to look our best at parties and get-togethers with friends and family. With Thanksgiving just a couple weeks away and the winter holidays right behind it, now is a great time to see your Astoria, NY, dentist about cosmetic dentistry. With our treatment options, we can brighten teeth in time for the holiday season!
At-Home Whitening
We have a professional system that provides longer-lasting and more dramatic results than typical store-bought options, like strips or whitening toothpastes. This treatment is also designed to limit tooth sensitivity as well. We start with an initial office visit, in which we take detailed impressions of your teeth to craft a set of plastic trays. We then send the patient home with these trays, and a bleaching gel as well. Daily, the trays will need to be filled with the gel and worn for about 30 to 45 minutes, depending on the dentist's recommendations. The total treatment time varies, but usually falls between one and two weeks. For many, this system offers a significantly brighter smile, and the trays and remaining gel can be kept for touch-ups in the future.
Masking Severe Discoloration
While our teeth whitening system easily removes surface stains, known as extrinsic discoloration, what about intrinsic discoloration? These stains don't form on the surface as a result of consuming certain foods and drinks, or not maintaining good oral hygiene. Instead, they form beneath the outer tooth enamel, often the result of tetracycline use at a young age, fluorosis, or injury. While sometimes whitening may not be enough to remove these stains, we can still help. With dental bonding, which uses the same composite resin employed in our tooth-colored fillings, and veneers, made from lifelike porcelain, we can simply mask them to instantly brighten the teeth.
Tips for Keeping Teeth Bright
To keep your smile bright, be sure you take time daily to brush and floss thoroughly, which limits the severity of plaque buildup and discoloration. Make time to see us every six months for a checkup and cleaning, so we can remove plaque to keep your teeth bright. Cut back on drinks with dark pigments, like coffee, soda, red wine, and tea, and also consume fewer sugary and starchy foods, which promote plaque buildup. With a few simple changes to your daily routine, you can help protect the health and beauty of your smile. If you have any question, or if you would like to schedule a cosmetic consultation, then contact our team today.
Do You Have Questions About Cosmetic Care?
If you have questions about the treatments we offer to help brighten smiles, then let us know today. For more information on our cosmetic treatment options, then schedule a consultation, call Jeffrey Leibowitz, DDS, in Astoria, NY, today at 718-728-8320.