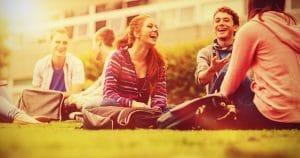 Kids are not the only ones heading back to school. College students and educators alike will also be preparing to start the fall semester. We know that in between work, school, and life, finding time during the fall semester to see the dentist can be difficult. That's why we always recommend scheduling a back to school visit!
Checkups and Cleanings
During your visit we perform a routine exam. Using digital x-rays and other technologies, we will carefully examine your teeth, gums, jaw, and oral tissues, assessing your oral health and identifying any possible problem areas. We often look for cavities, gingivitis, and gum disease, as well as TMJ disorder and bruxism. We will screen for oral cancer as well. Finding these problems in the early stages allows us to administer treatment before they require more extensive solutions.
The visit also involves a dental cleaning. Even if you brush and floss properly, you can't remove plaque buildup, only a cleaning can do that. Removing the layers of plaque from the teeth reduces the risk of tooth decay and gum disease, as well as halitosis and teeth stains. We recommend a routine exam and cleaning once every six months.
Fillings
What if we discover a cavity? Well, we can often correct the issue in a single visit using a composite resin dental filling. Made from a metal-free material, the filling will look natural and help prevent the decay from spreading and leading to an infection.
Cosmetic Treatments
If you want to start the new year with a more beautiful smile, then let us know! We have an array of cosmetic treatments that address everything from teeth stains and misalignment to misshapen teeth and gaps in the smile. We can return your smile to optimal appearance, so talk tour team today about our cosmetic treatment options.
Do You Need to Make an Appointment?
Our team can offer personalized treatment to help you start your new school year with a healthier and more beautiful smile. For more information, schedule a consultation with us by calling Jeffrey Leibowitz, DDS, in Astoria, NY, today at 718-728-8320.