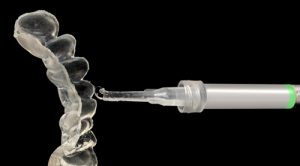 If you go to a store or pharmacy, you'll see a number of products to help you brighten your smile, such as strips, rinses, or even toothpaste. However, few offer professional grade results and often, the results simply don't last very long. Fortunately, we can offer a solution that you can use from the comfort of your own home. Ready to try our trays and gel to brighten your teeth?
Our At-Home Whitening System
Our system involves a set of plastic trays and a powerful bleaching gel. We will send you home with the trays and the gel. From there, you will fill the trays with the gel and wear them. For severe cases, you may wear them overnight. For more minor cases, you can often wear them for just one to two hours a day. For optimal results, treatment typically takes between one and two weeks. In that time, your teeth can become brightened by multiple shades and offer results that can last as long as six months. You can also keep the trays and any leftover gel for touch ups later on.
What Causes Discoloration?
Why do teeth stains form? They're often the result of the foods and drinks we consume. Foods and drinks high in sugar and other starches can promote plaque buildup, which makes the appearance of discoloration more likely. Consuming drinks with dark pigments, such as tea, soda, coffee, red wine, and fruit juice, can also stain the teeth.
Other factors behind discoloration can include smoking or tobacco use, fluorosis, injury to the teeth, and exposure to tetracycline as a young age. We will assess the cause of your discoloration before recommending the appropriate treatment.
Keeping Your Newly Brightened Smile Stain-Free
After treatment, you can use preventive techniques to keep your smile bright for longer periods. You should first always make sure you have your teeth professionally cleaned ay the office every six months. You should also brush your teeth twice a day and floss every night before bed.
Ready to Try Professional Whitening?
At Jeffrey Leibowitz, DDS, we can offer a solution to discoloration you can use at home. We've proudly served our patients in Astoria, NY (including Queens, Manhattan, Brooklyn, and all surrounding communities) since 1991. To schedule an appointment with Dr. Leibowitz, call our office in Astoria today at 718-728-8320.