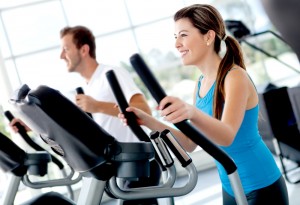 Chances are, you already do, but did you know that regular physical activity can also benefit your dental health? It's no secret that eating healthy can reduce your chance of forming cavities. After all, excessive sugars and carbs are major contributors to the development of tooth decay, and a healthy diet concentrates on regulating the nutrients you ingest. Studies also show that exercising on a regular basis can also reduce your risk of developing gum disease, which can wreak havoc with your dental health once it sets in. Astoria dentist, Dr. Jeffrey Leibowitz, explains the connection between keeping your body healthy and your mouth strong.
All About Control
Gum disease begins with oral bacteria, which form plaque and adhere to your teeth and gums. When plaque accumulates on your gum line, the germs release toxins that irritate your gum tissue and incite your immune system's inflammatory response to harmful invaders. The inflammation continues throughout your gums, destroying the tissue that connects them to your teeth. When you exercise regularly, your body has a stronger control on your immune system and its ability to maintain order. One study, which examined the exercise routines and dental health of 2,500 people, suggests that participants who exercised at least three times per week were 33% less likely to develop gum disease compared to subjects who did not exercise at all.
Healthier Living for a Healthier Mouth in Astoria
Healthy dieting and regular exercise also help you maintain the strength of your bones. Your smile's foundation, the jawbone, must remain strong and healthy to support your teeth and keep your mouth operating properly.  To learn more about how a healthy body can help protect your dental health, or to schedule a dental consultation, contact Dr. Leibowitz by calling our Queens dental office at (718) 728-8320. We proudly serve patients from Astoria, Queens, Manhattan, Brooklyn, and the surrounding communities.