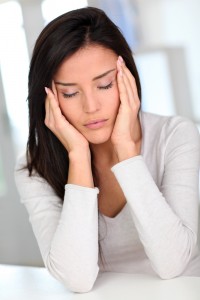 The science of dentistry began with the care of teeth. As centuries marched on and our understanding of human anatomy and medicine grew, it became apparent that oral health involves much more than removing infected teeth. Today, dentistry involves the health of your entire mouth, including the structures that support your teeth and allow your jaws to move. For instance, if you have frequent severe headaches that seemingly have no cause, or sore muscles in your jaw and/or face with no explanation, then you may want to ask your dentist about them. These and other symptoms can indicate distress in the joints and muscles that connect your lower jaw to your skull. Dr. Jeffrey Leibowitz has extensive experience treating patients with TMJ disorder, and as a general dentist in Astoria, he can help relieve your jaw pain, as well. To help determine if your discomfort is likely caused by TMJ, take a moment to answer our TMJ quiz questions below.
The TMJ Quiz
Have you recently incurred an injury to your mouth, face, or jaws?
TMJ disorder describes the discomfort associated with damaged or distressed jaw joints. If you've recently incurred trauma to your mouth or the area around your jaw joints and muscles, there is a likely chance that your discomfort is caused by damaged TMJs.
Do you suffer from bruxism?
While most people clench or grind their teeth at times, some people do it habitually. Known as bruxism, this habit places an excessive amount of pressure on your teeth and jaws, and is also a common cause and symptom of TMJ disorder. Because the habit often occurs at night, patients may not be aware of their condition until symptoms of TMJ disorder become apparent. Bruxism can typically be treated by wearing a nightguard to sleep, which prevents your teeth from grinding together.
Are your headaches accompanied by facial swelling, difficulty chewing, or an uncomfortable bite (i.e., your upper and lower teeth don't seem to fit properly when your mouth is closed)?
Your TMJs are large joints. If damage causes inflammation, facial swelling may become apparent. Because the joints control your mouth's movement, TMJ disorder can affect your bite's alignment, forcing your jaws to work extra hard to keep your bite aligned during chewing or speaking.
TMJ Relief in Astoria
If you answered yes to any of these questions, your discomfort may be TMJ-related. Treating TMJ disorder depends on the specific cause, of which there are several. If problems persist, see Dr. Leibowitz as soon as possible. To learn more about TMJ disorder, or to schedule a dental consultation, contact Dr. Leibowitz by calling our Queens dental office at (718) 728-8320. We proudly serve patients from Astoria, Queens, Manhattan, Brooklyn, and the surrounding communities.